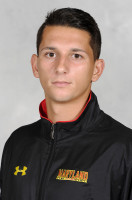 Dan Metzger, Senior, M, Maryland
Overview:
Metzger was a member of the U-18 U.S. National Team and one of the top-ranked recruits prior to his heading to Maryland. He came off the bench for the Terrapins in 2011, appearing in 18 games and logging more minutes than any other freshman on the team. He also helped the defense record eight shutouts for the season. Metzger upped his pitch time in 2012, playing in 22 games and starting 19 of them in central midfield. He scored the game-winning goal in a postseason game against Brown. Metzger entered the 2013 season as team captain, starting all 26 games for the Terrapins and guiding Maryland to a second straight ACC Tournament Championship, as well as a birth in the College Cup final. He earned First Team All-ACC and ACC Championship All-Tournament Team honors.
Metzger typically plays a defensive/holding midfielder role in Maryland's 4-4-2 diamond formation, so he excels at dispossessing opponents, supporting the back line, and building up play from a deeper position. He displays confidence on the ball and, as a leader, is very vocal with teammates, regularly directing them on the pitch. Metzger is also quick in his decision making, possesses skill on the ball, and can deliver quality passes.
Final Projection:
Metzger spent a year in the New York Red Bulls Academy, so it remains to be seen if he will be signed as a homegrown player. However, if he is available, Metzger would probably be a late first round or early second round pick at worst.