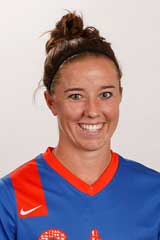 Annie Speese, Senior, M, Florida
Overview:
Annie Speese was impressive in her freshman campaign, leading the Gators in assists (9) and ranking second and third in points (25) and goals (8), respectively, during the 2011 season. She appeared in 24 games for the Gators, starting 20 of them, and also earned SEC All-Freshman Team honors. Speese' output dropped in 2012 despite starting 23 of the 25 games she appeared in. However, her 16 points (6G, 4A) were still fourth best on the team. Speese saw her assist numbers improve during the 2013 season, as she ranked second on the Gators with seven helpers, but her point total fell to a single-season low of 13. She started all 24 games for the Gators, playing a whopping 1,728 minutes, which was a single-season high for her.
Speese generates a lot of good looks on goal, and she is an asset on free kicks, including corners.
Final Projection:
Speese doesn't appear to be the impact player she once was, but some teams might be willing to take a chance on her late in the draft.