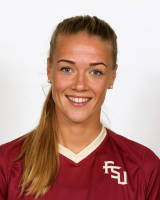 Dagny Brynjarsdottir, Senior, M, Florida State
Overview:
Dagny, a native of Iceland, started in 20 of the 21 games she appeared in for Florida State in 2011, ranking fifth on the team with 13 points (5G, 3A). She led all Seminole freshmen in points, goals, and game-winning goals and also earned All-ACC Freshman Team and Soccer America Freshmen All-American First Team honors. Dagny had a breakout sophomore season in 2012, posting single-season career-highs in every offensive category including goals (9), assists (9), points (27), shots (40), game-winning goals (5), and game-winning assists (2). She ranked second on the team in points, goals, and assists, and her five game-winning goals were tied for first. Dagny's output only improved during the 2013 season. She started 25 games for the Seminoles, leading the team in points (33), goals (14), shots (74), shots on goal (37), and game-winning goals (7). She earned several accolades, including NSCAA All-American Second Team and All-ACC First Team honors.
Dagny is a productive midfielder who, thanks to her height, can win battles in the air and deliver accurate passes with her head. Dagny is always a scoring threat, but she also acts as a playmaker because of her effective distribution game. She exhibits lively footwork at times and displays poise on the ball.
Final Projection:
Dagny's national team experience can't be overlooked. Like fellow teammate Megan Campbell, Dagny is quickly becoming a veteran for her country even at a young age. As a result, she should transition well at the professional level.