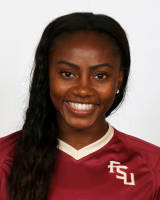 Jamia Fields, Senior, M/F, Florida State
Overview:
Jamia Fields played in all 26 games for Florida State as a freshman, starting in 13 of these matches. Her ten points (2G, 6A) ranked seventh on the team during the 2011 season, and Fields was one of only two ACC freshmen to lead the league in assists, helping her earn All-ACC Freshman Team honors. Fields took her play to another level in 2012, as she recorded single-season career-highs in every offensive category and finished the season tied for fourth on the team with 14 points (3G, 8A). The 2013 season proved to be even better. Starting in 27 of 28 games for the Seminoles, Fields finished her junior season with a career high in points (18) and goals (5). She also experienced her first multi-goal game against Virginia Tech in the national semifinal, scoring two goals, including the game winner in the 83rd minute to break a 2-2 tie. Fields was the only player to score more than one goal in the College Cup and was named College Cup Most Outstanding Player on Offense and was also selected to the NCAA All-Tournament Team.
Fields is a speedy player who hustles for every ball and can give defenders fits in 1 v 1 situations. Jamia's pace helps her create a plethora of opportunities on offense, and she is a constant threat because of her ability to deliver quality crosses and shots on goal.
Final Projection:
Coaches can't teach speed, so Fields will attract attention based on this strength alone. Fortunately for Jamia, she possesses other skills to compliment her quick feet, so she will be hard to pass up in the draft.