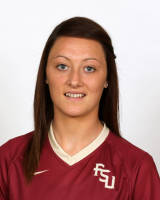 Megan Campbell, Senior, D, Florida State
Overview:
The Irish-born Megan Campbell made a big splash in her first season at Florida State. After capturing the 2013 Women's National League title and FAI Cup with Raheny United (Ireland), she made her way stateside, starting in 25 games and leading the Seminoles in assists (13) during the 2013 season. It was the second-highest single-season assist total in school history, and Campbell's four game-winning assists tied for a team high. She was also part of a backline that finished the season ranked in the top 25 nationally in goals against average (0.55) and shutout percentage (0.54). Campbell was selected to the All-ACC Second Team because of her accomplishments.
Campbell is a solid left back who moves forward with relative ease and can deliver some quality passes in the final third. Defensively, she possesses good size and pace, effectively clears balls with both her head and feet, and consistently shuts down opposing players in 1 v 1 situations. Campbell can also throw the ball a mile, making her a huge asset on throw-ins.
Final Projection:
Campbell is a well-balanced player who is gaining valuable experience with her national team. Given her maturity and toolset, she should fit in well at the next level.