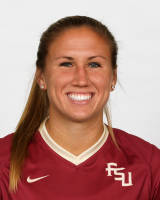 Kristin Grubka, Senior, D/MF, Florida State
Overview:
Kristin Grubka came to Florida State as a prolific goal scorer, and she helped contribute offensively during the 2011 season, tallying nine points (3G, 3A) while appearing in all 26 games for the Seminoles. However, given the team's depth up front and in the midfield, Grubka became a converted center back, starting 23 of her 24 games in 2012 along the backline. She anchored a defense that set school records for shutouts (17), goals against average (0.62), and fewest goals allowed in ACC play (4). The 15 goals the Seminoles allowed during the season also tied a school record. Despite playing from the back, Grubka managed to finish third on the team in goals (5) and points (16), while her six assists ranked fourth among Florida State players. Grubka continued her impressive play in 2013, starting all 28 games and helping the Seminoles reach the College Cup for the third straight year, including a berth in the finals. Though her offensive production dropped, Grubka scored four goals, three of which came in the postseason.
Grubka is a physically imposing player with both size and skill. Because of her prior experience up front, she possesses quality ball-handling abilities. Grubka can dribble the ball out of the back or move it through the midfield with her solid passing game. She is also a weapon on set pieces, as her air superiority and nimble feet allow her to get on the receiving end of balls.
Final Projection:
There is no doubt Grubka will be highly sought after considering her versatility and all-around game. She has probably solidified herself as one of the more complete players in the draft.