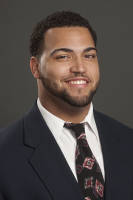 Billy Winn, Senior, Defensive Tackle, Boise State
Overview:
Much like Boise State's defense in general, Billy Winn has flown under the national radar. However, opposing players in the Western Athletic Conference, and now the Mountain West Conference, know him all too well. Winn has been a steady force in the middle of the Broncos line since his redshirt freshman season in 2008. He made a variety of All-Freshman teams that year and finished the year with 26 tackles, 5.5 tackles-for-loss and 2.5 sacks. The defensive tackle created even more havoc in the opposing backfield in 2009, totaling 44 tackles and ranking fifth in the WAC with 12.5 tackles-for-loss and 6.0 sacks.
Winn did not put up as good of numbers in 2010, but that is mostly because teams were forced to double team him much of the time. Yet, even without the gaudy numbers, Winn was a major force and collapsed the pocket on a consistent basis and created opportunities for his teammates to make plays.
Final Projection:
The issue facing Winn heading into the 2012 NFL Draft is his size. He is pretty quick for a defensive tackle, but only weighs in at 288 pounds. That has served him well in college, but he will need to add more weight to battle inside at the next level. It is possible that Winn could move to the end position in the NFL since he has proven to have a knack for getting into the backfield.
1/5/12 Update:
Winn will almost certainly move to the end spot at the next level. He ended his collegiate career at Boise State with 36.5 tackles-for-loss and 16 sacks. He is a big, five technique end at the next level...and a pretty good one at that. Winn had a great senior season and is off to the Senior Bowl where he can boost his draft stock. By the end of it all, do not be surprised if Winn is the first Bronco taken in the draft, but it should be close with offensive tackle Nate Potter garnering plenty of looks.
See all NFL Draft Profiles and Rankings