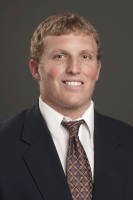 Nate Potter, Senior, Offensive Tackle, Boise State

Overview:
From 2008 to 2010 it was Nate Potter who was the catalyst of the Boise State offensive line. It was Potter who has protected quarterback Kellen Moore for four years and has been the unsung hero of Boise State's prolific offense. He will not be unsung for long. Even as a freshman in 2008, Potter was thrown into the mix after missing the opener with an injury. He played in every other game and earned a part-time starting role.
By 2009 Potter was a first-team All-WAC honoree and emerged as the team's best offensive lineman. The 2010 season went even better. On top of first-team All-WAC accolades, Potter was named to the AP All-America third team.
Final Projection:
Potter could have entered the 2011 NFL Draft and probably would have been a first round selection. Like everybody, he has a few things to work on, but Potter is more NFL ready than most offensive lineman at this point in his career. He has plenty of strength and experience and is surprisingly nimble for a 6-6, 293 pound lineman. By staying in school for another year Potter should be one of the best tackles, if not the best, in the class in 2012.
1/5/12 Update:
Potter is not the best offensive tackle in this class, but he will be one of the top senior offensive tackles taken in the 2012 NFL Draft. His senior campaign was fine, but there really was not much left for him to do. As he continues to add weight, Potter should work his way back up into the first round range, but a handful of more athletic tackles are coming out early and that could knock Potter down to the second round.
See all NFL Draft Profiles and Rankings