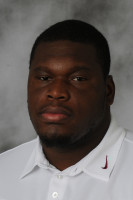 Kelechi Osemele, Senior, Offensive Guard, Iowa State
Overview:
Iowa State has not had the most dominating offensive line in recent years. However, Kelechi Osemele has been a bright spot on the unit. As a sophomore in 2009 he earned second-team All-Big 12 accolades and was an honorable mention all-conference performer in 2010. Even as a freshman Osemele made some starts at left tackle and right guard. Ever since then he has been a staple at the left tackle position.
Osemele is not the most physical or athletic tackle around and he has been exposed by more talented defensive ends. However, at 6-5 and 335 pounds, he has good size and can work on his footwork in order to be better prepared to stop quicker defensive ends.
Final Projection:
However, at the next level, Osemele is likely a guard. His physical skills certainly fit him into that category. He has had to play tackle at Iowa State since he has been the best player on the offensive line. In the NFL, he can slide inside and be one of the best guards in this draft class. And NFL teams will like that he can move to the tackle spot in a pinch.
1/5/12 Update:
Osemele is still projected as a guard in the NFL, but he has plenty of experience playing at tackle. Iowa State had a surprising year and actually reached a bowl game. Although they will be remembered for ruining Oklahoma State's perfect season. Even with inconsistent and multiple quarterbacks, the offense was decent thanks to players like Osemele. He is a borderline first round draft pick and if he turns out to be a tackle more than a guard, his stock will go up.
See all NFL Draft Profiles and Rankings