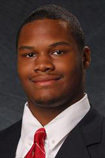 Josh Oglesby, Senior, Offensive Tackle, Wisconsin
Overview:
Josh Oglesby was supposed to be the next great offensive tackle to come out of Wisconsin. And he still could be. However, some major knee injuries have slowed his progress and the Badgers certainly have other linemen who are ready to take over if Oglesby cannot stay at full strength.
As a freshman, Oglesby moved all around the line filling in here and there. He ended up starting three games and appearing in all 13. By his sophomore season in 2009 the 6-7 Milwaukee native started ten games. He missed the other three games with what would become a major problem with his knees. In 2010 Oglesby was ready to bookend the strong Wisconsin offensive line with Gabe Carimi, but recurring knee injuries seriously hindered his season.
Final Projection:
If Oglesby can get healthy and stay healthy, he can be a great tackle at Wisconsin and in the NFL. He has a lot of potential and earned the starting job in 2009 and 2010 over some stiff competition, but that competition may keep Oglesby on the bench during the 2011 campaign. Oglesby will have to stay in the mix for the left tackle job with the Badgers for his senior season or at least secure the right tackle job and stay healthy if he hopes to follow his former teammates like Carimi into the NFL.
See all NFL Draft Profiles and Rankings