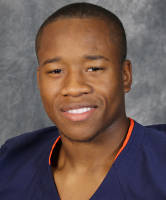 Chase Minnifield, Senior, Cornerback, Virginia
Overview:
When all is said and done, Chase Minnifield could be one of the top cornerbacks in the 2012 draft class. He has plenty of speed and has the ability to run a sub 4.4 40. That alone will impress scouts. Minnifield's explosiveness has also made him a solid punt and kickoff returner during his collegiate career at Virginia.
However, Minnifield is more than just an elusive and quick athlete. He is a solid cover corner and has a knack for being in the right place. During the 2010 season Minnifield ranked seventh in the NCAA with six interceptions, boosting his career total to ten at that point.
Final Projection:
Minnifield has all the tools to be a first or second round selection. His draft value only increases with his ability as a return man, although he has not been able to consistently get into space on punt returns. But, of course, his true value is as a cornerback and another year of being around the ball and making plays will see Minnifield make a run at a high draft pick.
1/5/12 Update:
Minnifield added three more interceptions to his total during his senior campaign in 2011. Considering the opposition avoided him as much as possible, three interceptions is pretty impressive. Even when the ball was not thrown his way, Minnifield was still making plays. He totaled 41.5 tackles, including 7.0 tackles-for-loss. Not only is he a great cover corner, but he proved that he can come up and make plays against the run as well. Minnifield is during into one of the better corners in this class and he could be a first round selection.
See all NFL Draft Profiles and Rankings