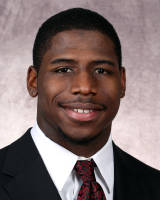 Alfonzo Dennard, Senior, Cornerback, Nebraska
Overview:
Alfonzo Dennard has had to work his way up the cornerback pecking order at Nebraska. He started off as a true freshman playing mostly on special teams. As a sophomore he began the season as a key reserve before taking over a starting job. Even as an upperclassman Dennard was second fiddle to Prince Amukamara. Dennard will finally be the star of the secondary in 2011.
Dennard got to do a little blitzing from the corner during his sophomore campaign, but it was his coverage skills that got him into the starting lineup. On the year Dennard broke up eight passes. In 2010 Dennard put up better numbers and was constantly tested since most teams tried very hard to avoid throwing anywhere near Amukamara. As a result Dennard picked off four passes in 2010.
Final Projection:
Dennard's production should drop in 2011 as he becomes the new Amukamara of Nebraska and teams avoid throwing his way. Heading to the Big Ten should also decrease the amount of pass attempts he faces compared to the pass happy Big 12. Dennard will not be the fastest, biggest or strongest corner in the 2012 NFL Draft class, but he is an all-around solid corner who has the potential to be the first corner off the board.
1/5/12 Update:
Besides ending his collegiate career by getting kicked out of the Capital One Bowl, Dennard did everything he needed to during Nebraska's first year in the Big Ten. The Cornhusker may have been a little bit humbled, but the injuries, including to Dennard, really hurt what should have been a superb defense. Dennard is one of the top three or four corners in this class and should be looking at being selected arond the middle of the first round in the 2012 NFL Draft.
See all NFL Draft Profiles and Rankings