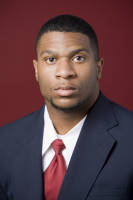 Knile Davis, Senior, Running Back, Arkansas
Overview:
Knile Davis did not see much playing time as a freshman in 2009, but he did show off his immense potential. With just 33 carries, he rushed for 163 yards and four touchdowns. He even caught a couple passes and recorded a few tackles on special teams. The 2010 campaign did not start out much better for Davis. Battling for more carries, Davis and the rest of the ground game, was often stuck in their tracks.
But then Davis emerged as Arkansas' top rushing threat and put it all together. He almost single handedly turned the Razorbacks offense from a one-dimensional passing attack into a dynamic balanced threat. On the year he rushed 204 times for 1,282 yards and 13 touchdowns.
Final Projection:
The expectations are now through the roof for Davis. At 6-0 and 220 pounds, Davis has the power to run between the tackles. And he will also break outside and has tremendous speed to get around the corner. Consistency is an issue, but all of his measurables are there. With a solid junior season in 2011, Davis could be one of the first running backs off the board in the 2012 or 2013 NFL Draft.
See all NFL Draft Profiles and Rankings