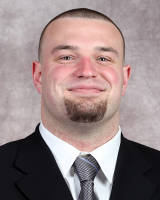 Jared Crick, Senior, Defensive Tackle, Nebraska
Overview:
Jared Crick's debut in the Big Ten has been relatively disappointing thus far. The Nebraska rush defense is not living up to expectations and Crick can take some of the blame. However, Crick is no stranger to slow starts. It happened to Crick in 2010, but he came around and managed to tally 70 tackles and team highs with 17.0 tackles-for-loss and 9.5 sacks.
Crick has been on the NFL radar since his breakout sophomore season in 2009. That year he totaled 73 tackles, 15.0 tackles-for-loss and 9.5 sacks. Considering he did practically nothing as a redshirt freshman, Crick quickly proved that he is a great when given the opportunity. Crick will need to develop into a leader on the field down the stretch of the 2011 campaign and help turn around the defense. This is a unit that certainly has that ability and Crick has the talent to lead the way.
Final Projection:
At 6-6, Crick has nice size for a defensive tackle. He uses his size very well to break up passes and to push opposing lineman out of the way. NFL scouts want to see his strength and the point of attack. His size can be a disadvantage at times. He can stay too high at the point of attack. He still needs keep his weight up and stay a quick and nimble tackle. Crick opted to return to Nebraska in part to work on those apsepcts of his game. He could have been a borderline first round draft pick in the 2011 NFL Draft, but will likely be a top 15 pick 2012.
1/5/12 Update:
The 2012 campaign did not go well for Crick. He only played in five games due to injury. The issues that were there last season are still there and now Crick has to prove that he can be fully healthy and return to his prior form. That will not be an easy task and Crick's stock is dropping fast. He has a lot of work to do to get anywhere near his probable draft ranking a year ago.

See all NFL Draft Profiles and Rankings