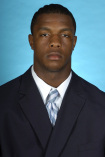 Quinton Coples, Senior, Defensive End, North Carolina
Overview:
Quinton Coples had some work to do after arriving at North Carolina. He was undersized and lacked a lot of the technical skills needed to be a top pass rusher. However, Coples never lacked athleticism and he made an immediate impact for the Tar Heels, tallying eight tackles, 3.5 tackles-for-loss and 1.5 sacks as a freshman. He saw more playing time as a sophomore and totaled 22 tackles, 6.5 tackles-for-loss and 5.0 sacks.
By 2010 Coples was ready to step into the starting lineup. Once there he made the most of his opportunity and had a dominating junior season. On the year Coples recorded 59 tackles, 15.5 tackles-for-loss, 10.0 sacks and 12 quarterback hurries. The NFL will want to see if he can keep it up for another year, but there is little reason to think that he will not be just as productive as a senior.
Final Projection:
Coples has added a ton of weight and is in great physical shape. He will blow away scouts prior to the NFL Draft with his measurables. However, he is pretty much just a pass rusher. Coples does struggle at times stopping the run and that is something that needs to be addressed if he hopes to be a top ten selection.
1/5/12 Update:
The one major concern heading into the 2011 season was Coples stopping the run. He put an end to that issue. Coples emerged as a fine run stuffer on top of what he does best...get to the quarterback. The Tar Heels defense is full of talent, but Coples was the guy who made plays in 2011. He will test out very well at the NFL Combine and he should be a top ten pick and could sneak into the top five if some team falls in love with his athleticism.
See all NFL Draft Profiles and Rankings