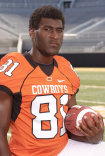 Justin Blackmon, Junior, Wide Receiver, Oklahoma State
Overview:
Coming out of high school Justin Blackmon was considered a good recruit, but was not expected to turn into a wide receiving stud too quickly. And to a certain extent, the 6-1 Admore, Oklahoma product did not come to Oklahoma State and immediately turn into a star. He redshirted in 2008 and was not expected to do much as a redshirt freshman the following year. However, when Dez Bryant was deemed ineligible, Blackmon was the newcomer who stepped up his game. He only caught 20 passes for 260 yards and two touchdowns, but Blackmon showed that he could be a special player.
Blackmon was expected to increase his production during his sophomore season, but few expected him to turn into, arguably, the most dynamic receiver in college football. In 12 games Blackmon caught an amazing 111 passes for 1,782 yards and 20 touchdowns. He even added a trip to the end zone on one of his four rushing attempts. Blackmon ended up leading the nation in receiving yards per game and receptions per game. As a result, Blackmon took home a ton of hardware, including the Biletnikoff Award.
Final Projection:
Blackmon is a superb talent who seems to always make the catch. He has good speed and is a legitimate 6-1, making him tall enough to be a traditional number one receiver in the NFL. He could have been a first round selection in the 2011 NFL Draft as a draft eligible sophomore, but he opted to return to Stillwater, Oklahoma for his junior campaign. Showing NFL scouts that he can be productive two years in a row should turn him into a top five talent when evaluating the 2012 NFL Draft class.
1/5/12 Update:
And Blackmon did everything he needed to do to be a top five pick in this draft. He will enter the draft, and smartly so, after his junior campaign. On the year he caught 121 passes for 1,522 yards and 18 touchdowns. Nobody could expect much more than that. Even with some unlikely poor performances in the pre-draft workouts, it would be a surprise if Blackmon fell out of the top ten in the 2012 NFL Draft.
See all NFL Draft Profiles and Rankings