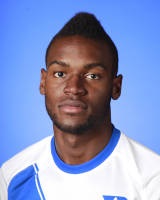 Sebastien Ibeagha, Senior, Defense/Midfield, Duke
Overview:
A Houston Dynamo Academy homegrown player, Ibeagha has been a staple in the Duke defense ever since he arrived in Durham, North Carolina. Despite missing four games during the 2010 season due to injury, he still managed to start 16 matches, going the full 90 minutes in 11 of them. Ibeagha helped the Blue Devils record six shutouts and was named to the All-ACC Freshman Team. His 2011 season was just as successful, as he started 17 games, played a part in four shutouts, and earned All-ACC second team honors.
Ibeagha experienced an even better junior season, anchoring a defense that registered nine shutouts in 2012 while leading the team in scoring (5G, 2A) with 12 points. His defensive superiority earned him the ACC Defensive Player of the Year award. Ibeagha has also been part of the U.S. National Team at various levels throughout his youth and collegiate years, recently training with the U-23 team.
Final Projection:
Ibeagha has proven to be a consistent shutdown defender. While his physical game can often lead to fouls, Ibeagha effectively closes on the ball and regularly dispossess his opponents with a combination of pace and aggressiveness. He enjoys many of the attributes professional teams are looking for in a center back, including size, strength, speed, and the ability to build out of the back – which Ibeagha can do given his experience in the midfield as well.
See All MLS Draft Rankings and Profiles