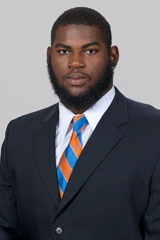 Sharrif Floyd, Junior, Defensive Tackle, Florida
Overview:
Floyd has been a fast riser at the end of the season. The junior is nearly 300 pounds and he dominated opposing offensive lines. He led Florida in tackles for loss from the tackle position. He is athletic enough to break through to the quarterback as well, though there is not too much production there. He totaled three sacks in 2012. His explosion and quickness helped him dominate the SEC. The ability to sack from the tackle position certainly raises eyebrows at the next level.
Final Projection:
Floyd is certainly a good player, but he is not the top tackle on the board nor is he playing at a sexy position. He would be able to fit in a 3-4 or a 4-3 which benefits him. He would certainly have to perfect whichever position he was placed in. A fast riser like this has boom-or-bust potential so evaluators will have to be sure about him. All indications are that he is a good locker room guy and a strong competitor. He will certainly be taken by the middle of the second round.
4/11/2013 Update by Joel Welser:
With great showings at the NFL Combine and during his Pro Day, Floyd has quickly moved up draft boards. What was once considered aspects of a tweener, Floyd is now considered versatile. That is a huge bonus to teams running a 3-4 defense and even bigger for teams moving to a 3-4 scheme this season. That is the case with a team like Philadelphia who is eyeing Floyd with the fourth overall pick of the draft. Yet, Jacksonville and Oakland could both select Floyd with the second or third pick, respetively. Floyd should not fall much further than Philadelphia at the four spot.

See all NFL Draft Profiles and Rankings