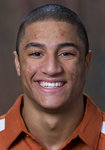 Kenny Vaccaro, Senior, Safety, Texas
Overview:
Texas is on the rise on a national level again, and they are being led by their defense. Vaccaro was the best player in the secondary for the Longhorns. Vaccaro had 91 tackles this season. He was everywhere the ball carrier was. He is 6 feet tall and lean, which allows him to get to his spot quickly. He also has the ability to pick up receivers and battle for the ball better than most defensive backs in the draft. That's a skill that will earn him big money.
Final Projection:
Vaccaro will most likely be battling Matt Elam, the safety out of Florida, for the first safety drafted. Smart money is on Vaccaro going first. Rarely are safeties drafted in the top 10, so Vaccaro does not appear to be worth a pick there. He is first-round caliber and could get a sniff near the end of the round to the Rams at 22 or the Patriots at 29. If he falls into the second round, he will not be waiting long.
See all NFL Draft Profiles and Rankings