My Tribute To The Sports Guy
People around northeast Iowa already know a lot of the story, this fellow named Gary Rima has been calling sports of one sort or another for 47 years. 47 years! The last 29 of those years, he's been doing the play-by-play for the Northern Iowa Panthers' football, men's basketball and, now defunct, baseball programs. In this part of the world, he really is an icon. And with that, many would have a big head and be arrogant.
Gary, though, is one of the most approachable folks you'll ever meet. He really will converse with anybody and he'll take on any subject. But with a nickname like 'The Sports Guy,' there's no hiding where his wheelhouse is. Personally, I've talked to him about many things in life. He's always well thought and well spoken, even when he's wrong. Hahaha! One particular example has to do with his stance that Jake Arrieta deserved his National League Cy Young Award over Zach Greinke, even though Greinke was better for four of those six months that season. That debate will never be settled, for either of us.
As a child, I grew up in central Iowa. As a sports fan, I was never a huge UNI fan. I gravitated more to Iowa State, namely by proximity. I also admired some national programs. I didn't really have an opinion on Northern Iowa until I saw them upset Missouri in the NCAA Tournament back when I was in school. Eventually, I followed love and moved to the biggest town in northeast Iowa, that wasn't a metropolitan area.
As time moved on, I was working at the local casino as a dealer. One evening, one of my floor bosses said, "Do you know who that is?", knowing that I was a big sports fan. She then introduced me to 'The Sports Guy.' We hit it off immediately. I don't remember if he won or lost, but I remember talking about sports the whole time he was there. Was probably one of the easiest and fastest shifts I ever worked. At the time, he'd just started an afternoon sports call-in show called "On Press Row." He invited me to give it a listen when I could. Of course, I became a regular listener. "A phone call from Beef in Waverly. Beef, how are you doing?" That seemed to go over the airwaves once or a couple hundred times.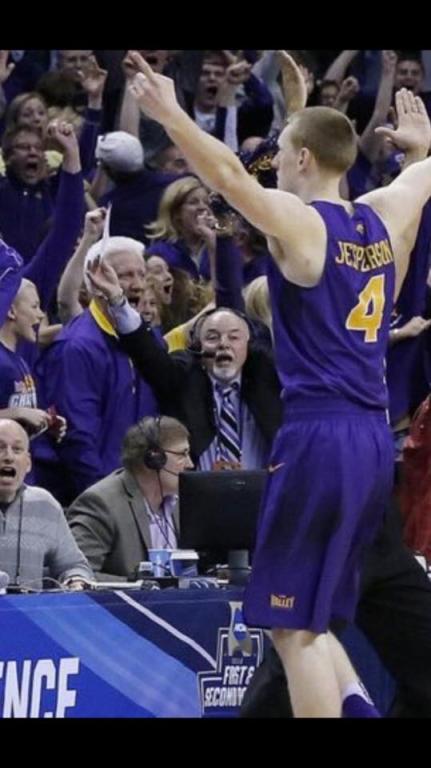 Later on, his talk show started a website where they could chronicle sports stories and podcast the show afterward. With that, articles would go up concerning UNI athletics and I was sought as a "pseudo expert." This led to writing articles myself, mostly on UNI and Missouri Valley articles, but it got me started. Fast forward a little further, I started doing NCAA basketball bracketology and then FCS football bracketology. This just solidified our relationship, besides being casually friendly it became semi-professional. Gary even went to bat for me when there was an opening for a post-game radio call-in show after UNI football games. That was the hardest and most fun thing I've ever done.
"On Press Row" isn't around any more and neither is the website. With the football season completed, his play-by-play won't be heard again either. We have just the rest of this basketball season, four regular season games, as of this writing. We still have the Arch Madness/Missouri Valley Conference Tournament and who knows about a postseason after that. But the days are coming to an end, quickly. And many in northeast Iowa are wondering how the radio call is going to sound in fall of 2022.
Those included are Kevin "KB" Boyle (basketball) and Scott "Petey" Peterson (football), Gary's long-time color commentators. They're as tied to his success as the main voice. Perfect complements to each other. There's also been a plethora of young, in-studio producers that have been given a chance by Gary and are already going on to do bigger things; Jake Bemis, Chris Dobernecker, Cole Bair, John Leo, Joel Wauters, Logan Blackman. There's undoubtedly others I've forgotten or didn't hear before I'd started listening. But Gary has always been helpful, honest and generous with his time and opportunity.
Without Gary, I never would have had a platform to cut my teeth, writing, pontificating, and perfecting my craft as far as a bracketologist. I surely wouldn't be doing it for College Sports Madness. And the many times I was an in-studio guest, promoting the season to come or the upcoming playoff drive, Gary was always sure to give CSM a plug. Might not sound like a big deal, but that AM station reached something around 33 states and sometimes into Canada, if the conditions were right, atmospherically.
Gary's always been fun to talk with and tease when he would make a mistake during a live call. "You're always listening when I screw up, aren't you?" Hahaha. Indeed I am. But it's just ribbing, Sports Guy. You're one of the best that's ever done this. I've always been proud to call myself an OPR DL listener; dedicated listener, diehard listener. For a short time, I was proud to call you a colleague, even though I was nowhere in your league. Most importantly, I'm glad our paths crossed and I'm able to call you my friend.
Selfishly, I hope the Panthers go on a deep run and you're on the stick for another six or seven weeks. But if we only get to hear a half dozen more calls, all of Panther Nation will cherish that time, just like I will. We're all going to miss the "KABOOM!" three-point calls and about how much, "You love this team!"
I know you're going to enjoy all the extra time you'll have playing senior's baseball, golfing and pickleball (whatever that is?) More importantly, I know you'll enjoy the extra time with your kids and grandkids, probably attending sporting events without having to talk for hours non-stop and, of course, time with your wife, Marla Kay. Hopefully she restarts her tradition of decorating Christmas trees in every room this coming year.
It's been a great run, Sports Guy. Go take a rest. We'll try to find someone to take it from here. "I love you, Sports Guy!"