Michigan Wolverines
2021-2022 Overall Rank: #5
Conference Rank: #1 Big Ten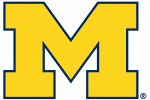 In just his second season as a head coach, Juwan Howard led Michigan to a Big Ten title and a #1 seed in the NCAA Tournament. That success has led to an amazing recruiting class that will help the Wolverines continue their success for years to come. For now though, Michigan must replace five of their top seven scorers. But with the talent coming in, do not expect the Wolverines to slide down the Big Ten standings at all.
2020-21 Record: 23-5, 14-3
2020-21 Postseason: NCAA
Coach: Juwan Howard
Coach Record: 42-17 at Michigan, 42-17 overall
Key Departed Players:
Isaiah Livers, Forward, 13.1 ppg
Franz Wagner, Guard, 12.5 ppg
Mike Smith, Guard, 9.0 ppg
Chaundee Brown Jr, Guard, 8.0 ppg
Austin Davis, Forward, 5.4 ppg
Key Returning Players:
Hunter Dickinson, Sophomore, Center, 14.1 ppg
Eli Brooks, Senior, Guard, 9.5 ppg
Brandon Johns Jr, Senior, Forward, 4.9 ppg
Terrance Williams II, Sophomore, Forward, 2.0 ppg
Jace Howard, Sophomore, Guard, 1.1 ppg
Zeb Jackson, Sophomore, Guard, 1.0 ppg
Key New Players:
Isaiah Barnes, Freshman, Guard/Forward
Kobe Bufkin, Freshman, Guard
Ian Burns, Freshman, Guard
Frankie Collins, Freshman, Guard
Moussa Diabate, Freshman, Forward
Caleb Houstan, Freshman, Guard/Forward
DeVante Jones, Senior, Guard, Transfer from Coastal Carolina
Will Tschetter, Freshman, Forward
Projection:
Hunter Dickinson is poised for a Big Ten Player of the Year type of season. It is not a big jump from his First-Team All-Big Ten accolades, All-American honors and Freshman of the Year award from last season. The 7-1 center led the team with 14.1 points, 7.4 rebounds and 1.4 blocks. Senior Brandon Johns Jr. got a taste of starting beside Dickinson late last season after the departed Isaiah Livers got injured. He played very well in those final five games and averaged 4.9 points and 2.3 rebounds on the year. Sophomore Terrance Williams II did not see much action as a freshman, but he is a good talent that play inside and out. The frontcourt also welcomes in five-star recruit Moussa Diabate who should slot right behind Dickinson this season. Eli Brooks will slot back into the shooting guard position after averaging 9.5 points per game a season ago. Incoming freshman Caleb Houstan will likely start beside him on the wing. Houstan should be one of the team's better shooters from day one. Isaiah Barnes, Kobe Bufkin and Frankie Collins are freshmen that normally would have the talent to make a huge impact right away, but with this group Coach Howard has the luxury of using them off the bench as necessary. The point guard spot will be manned by Coastal Carolina transfer DeVante Jones. He averaged 19.3 points, 7.2 rebounds, 2.9 assists and 2.8 steals during his latest season with the Chanticleers and now the pressure will be on the 6-1 senior to use his quickness to be a leader for Michigan. He needed to score a lot last season, but Jones is more than capable of being a pass first point guard. If Jones can fit in and find the scorers, this is a Michigan team that has the potential to win the Big Ten again and make a push towards the Final Four.
Projected Postseason Tournament:
NCAA
By the Numbers:
Scoring Offense: 75.8 (68th in nation, 4th in conference)
Scoring Defense: 65.1 (45, 2)
Field-Goal Percentage: 48.2 (21, 2)
Field-Goal Defense: 39.3 (13, 1)
Three-Point Field Goals Per Game: 7.4 (163, 8)
Three-Point Field-Goal Percentage: 38.1 (14, 2)
Free-Throw Percentage: 76.9 (27, 1)
Rebound Margin: 6.5 (25, 2)
Assists Per Game: 15.8 (35, 4)
Turnovers Per Game: 11.2 (46, 6)
Madness 2022 NBA Draft Rankings:
Madness 2021 Men's Basketball Recruit Rankings: