Michigan Wolverines
Overall Rank: #11
Conference Rank: #4 Big Ten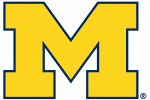 After what seemed like years and years of having to settle for trips to the WNIT, Michigan has now reached three NCAA Tournaments in a row. Last season that resulted in the Wolverines first ever trip to the Sweet Sixteen. And it was nearly better than the Sweet Sixteen. After getting past Florida Gulf Coast and Tennessee with relative ease, Michigan took Baylor to overtime with a spot in the Elite Eight on the line. Three starters are back, including All-American Naz Hillmon, and that should keep Michigan moving in the right direction.
2020-21 Record: 16-6, 9-4
2020-21 Postseason: NCAA
Coach: Kim Barnes Arico
Coach Record: 193-102 at Michigan, 462-308 overall
Key Departed Players (starters in bold)
Akienreh Johnson, Guard, 10.9 ppg
Hailey Brown, Forward, 8.0 ppg
Key Returning Players (starters in bold)
Naz Hillmon, Senior, Forward, 23.9 ppg
Leigha Brown, Senior, Guard, 18.2 ppg
Amy Dilk, Senior, Guard, 7.7 ppg
Maddie Nolan, Junior, Guard, 4.5 ppg
Emily Kiser, Senior, Forward, 2.4 ppg
Danielle Rauch, Senior, Guard, 2.3 ppg
Michelle Sidor, Junior, Guard, 2.3 ppg
Cameron Williams, Sophomore, Forward, 1.7 ppg
Whitney Sollom, Sophomore, Forward, 1.3 ppg
Elise Stuck, Sophomore, Guard/Forward, 1.0 ppg
Izabel Varejao, Junior, Center, dnp last season
Key New Players
Taylor Gibson, Freshman, Forward
Jordan Hobbs, Freshman, Guard
Laila Phelia, Freshman, Guard
Ari Wiggins, Freshman, Guard
Projection:
Hillmon took another big step forward during her junior campaign, averaging 23.9 points and 11.4 rebounds. The consensus Big Ten Player of the Year is poised for another huge season. While Hillmon does all the work in the frontcourt, Leigha Brown will be the main scoring threat on the perimeter. Brown had a superb debut season with the Wolverines, averaging 18.2 points, 4.5 rebounds and 3.1 assists. Amy Dilk does not do too much scoring, but the senior guard led the Wolverines with 3.9 assists per game. Hillmon, Brown and Dilk will form a great trio to build around. The key for this group will be filling in around them. Maddie Nolan was usually the first player off the bench last year. She should step into a starting role and be the team's top three-point shooting threat. Danielle Rauch and Michelle Sidor will add more options to the backcourt. The frontcourt needs a new starter too. Emily Kiser is an experienced senior who has played a decent role off the bench in each of the last three seasons. Izabel Varejao averaged 5.4 points and 3.7 rebounds as a freshman back in 2019-2020. She sat out last season after facing travel issues, but could now emerge as a key piece in Coach Kim Barnes Arico's frontcourt. Four freshmen, highlighted by top 50 recruits Laila Phelia and Ari Wiggins, should help this group find enough production outside the big three.
Projected Postseason Tournament:
NCAA
By the Numbers:
Scoring Offense: 75.3 (27th in nation, 4th in conference)
Scoring Defense: 64.9 (161, 4)
Field-Goal Percentage: 45.0 (28, 5)
Field-Goal Defense: 39.4 (132, 4)
Three-Point Field Goals Per Game: 5.4 (215, 10)
Three-Point Field-Goal Percentage: 30.7 (182, 10)
Free-Throw Percentage: 74.3 (57, 4)
Rebound Margin: 10.8 (11, 1)
Assists Per Game: 15.6 (35, 5)
Turnovers Per Game: 15.7 (171, 11)
Madness 2022 WNBA Draft Rankings:
Madness 2021 Women's Basketball Recruit Rankings: