Michigan Wolverines
Overall Rank: #32
#6 Big Ten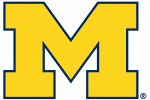 Following a season opening win over Minnesota, Michigan won just one more game and it took three overtimes to beat lowly Rutgers. That is not what anybody expects out of the Wolverines. Heading into the 2021 campaign, this group has a lot of questions. But, of course, it is Michigan and they have the talent to be among the best teams in the Big Ten.
2020 Record: 2-4, 2-4
2020 Bowl: None
Coach: Jim Harbaugh (49-22 at Michigan, 107-49 overall)
Offensive Coordinator: Josh Gattis
Defensive Coordinator: Mike MacDonald
Returning Leaders:
Rushing: Hassan Haskins, RB, 375 yards
Passing: Cade McNamara, QB, 425 yards
Receiving: Ronnie Bell, WR, 401 yards
Tackles: Josh Ross, LB, 53
Interceptions: Josh Ross, LB, 1; Daxton Hill, DB, 1
Other Key Returnees: WR Cornelius Johnson, LB Michael Barrett, DB Brad Hawkins, DB Gemon Green, DB Vincent Gray
Key Losses: RB Zach Charbonnet, QB Joe Milton, WR Giles Jackson, DL Carlo Kemp, DL Kwity Paye
Offense:
The Wolverines lost a couple of their quarterback options, so the returning choice is Cade McNamara. He threw for 425 yards, five touchdowns and no interceptions in four appearances. Of course, it will never be that simple. Texas Tech transfer Alan Bowman and five-star recruit J.J. McCarthy will be eyeing the starting job too. There is a large group of talented wide receivers, led by Ronnie Bell who caught 26 passes for 401 yards. Cornelius Johnson proved to be a dangerous receiver and Roman Wilson, A.J. Henning and Mike Sainristil are also back. Coach Jim Harbaugh also has a group of quality freshmen who will be looking to push those wideouts for playing time. The ground game is in pretty good shape even without Zach Charbonnet. Hassan Haskins had his moments last season and rushed for a team high 375 yards and six touchdowns. Blake Corum gained some valuable experience in 2020 and is ready for more action. However, the talent on offense was not really the problem last year. At times the whole unit just shut down and could not move the ball. The coaching staff will need to be a little more creative at times to utilize the talent they do have.
Defense:
Speaking of coaches, the defensive staff saw a large turnover and new coordinator Mike MacDonald is bringing in a new system. It will take some time for all of that to come together, but if it goes well, Michigan will see a huge uptick in production. The front line has some serious questions though with the loss of Kwity Paye and Carlo Kemp. The new system will likely get their pass rush, which was terrible last year, from the linebackers. Players like John Ross and Michael Barrett will need to get pressure on the quarterback to help out a secondary that often got torched last year.
The Bottom Line:
A week two home game against Washington should tell us a lot about where this Michigan team is early in the season. Having a Big Ten opener against Rutgers should ease the Wolverines into conference play, but they should know not to overlook the Scarlet Knights now. Those are the types of games Michigan needs to win. With a November that includes games against Indiana, Penn State and Ohio State, the Wolverines need to start strong or the tough finish to the season could be devastating.
Projected Bowl: Las Vegas Bowl
2020 Team Stats:
Rushing Offense: 131.5 (95th in nation, 11th in conference)
Passing Offense: 250.3 (44, 6)
Total Offense: 381.8 (78, 7)
Scoring Offense: 28.3 (66, 5)
Rushing Defense: 178.8 (79, 10)
Pass Defense: 255.5 (96, 13)
Total Defense: 434.3 (89, 12)
Scoring Defense: 34.5 (95, 12)
Turnover Margin: -0.33 (88, 10)
Sacks Allowed: 1.33 (18, 2)