Michigan Wolverines
Overall Rank: #24
Conference Rank: #5 Big Ten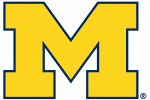 Michigan did a good job of beating the teams they should have beaten last year. There really is not a bad loss on the schedule despite going just 10-8 in Big Ten play. With the exception of a 15 point win over Iowa in early February, there were not too many impressive victories either. What that means is this was a consistent team. With four starters and much of the depth returning, the hope is that this season the Wolverines can remain consistent, but be consistently better too.
2019-20 Record: 21-11, 10-8
Coach: Kim Barnes Arico
Coach Record: 177-96 at Michigan, 447-302 overall
Key Departed Players (starters in bold)
Kayla Robbins, Forward, 11.6 ppg
Priscilla Smeenge, Guard, 1.7 ppg
Key Returning Players (starters in bold)
Naz Hillmon, Junior, Forward, 17.4 ppg
Amy Dilk, Junior, Guard, 11.6 ppg
Akienreh Johnson, Senior, Guard, 10.3 ppg
Hailey Brown, Senior, Forward, 8.9 ppg
Izabel Varejao, Sophomore, Center, 5.4 ppg
Maddie Nolan, Sophomore, Guard, 3.5 ppg
Michelle Sidor, Sophomore, Guard, 3.4 ppg
Emily Kiser, Junior, Forward, 3.0 ppg
Danielle Rauch, Junior, Guard, 1.5 ppg
Key New Players
Leigha Brown, Junior, Guard/Forward, Transfer from Nebraska, not eligible
Meghan Fiso, Freshman, Guard
Whitney Sollom, Freshman, Forward
Elise Struck, Freshman, Guard/Forward
Cameron Williams, Freshman, Forward
Projection:
Naz Hillmon followed up her Freshman of the Year campaign in 2018-2019 with another huge season in 2019-2020. The 6-2 junior led the team with 17.4 points and 8.7 rebounds and connected on 56.7 percent of her shots from the floor. Not many teams can stop Hillmon when she gets the ball in a good position in the paint. Hailey Brown will again start at small forward after averaging 8.9 points, 3.3 rebounds and totaling a team high 29 blocks. She also hit a team high 56 three-pointers. Izabel Varejao had a very promising freshman campaign, averaging 5.4 points, 3.7 rebounds and nearly one block per game despite averaging just 14.2 minutes per game. Expect to see Varejao put up bigger numbers with more playing time this season. The backcourt will again revolve around Amy Dilk and Akienreh Johnson. Dilk is a great point guard who can score in a variety of ways and set up her teammates. Johnson is a capable outside shooter, but does most of her scoring attacking the basket. Sophomores Maddie Nolan and Michelle Sidor should again provide quality depth off the bench. Those two can provide a nice offensive spark. The Big Ten has quite a bit of turnover this year, so returning four starters should see Michigan make a decent jump up the Big Ten standings and potentially even push for a conference title.
Projected Postseason Tournament:
NCAA
By the Numbers:
Scoring Offense: 70.8 (63rd in nation, 6th in conference)
Scoring Defense: 63.4 (144, 5)
Field-Goal Percentage: 44.7 (25, 4)
Field-Goal Defense: 40.7 (222, 10)
Three-Point Field Goals Per Game: 4.8 (264, 11)
Three-Point Field-Goal Percentage: 32.8 (97, 8)
Free-Throw Percentage: 68.1 (212, 11)
Rebound Margin: 7.8 (23, 2)
Assists Per Game: 14.6 (76, 8)
Turnovers Per Game: 15.9 (186, 12)
Madness 2020 Women's Basketball Recruit Rankings: