Michigan Wolverines
2020-2021 Overall Rank: #39
Conference Rank: #8 Big Ten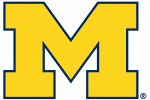 Juwan Howard's first season as Michigan head coach started strong as the Wolverines were ranked 4th in the nation after a 7-0 start. However, life in the Big Ten caught up to them and Michigan finished 19-12, their first season with below 20 wins since 2014-15. Howard still proved he has the ability to coach at a high level, but will be without key players Zavier Simpson and Jon Teske this season. Michigan still returns the other three starters and brings in a strong recruiting class along with at least one graduate transfer, which will keep them in contention for an NCAA Tournament selection.
2019-20 Record: 19-12, 10-10
Coach: Juwan Howard
Coach Record: 19-12 at Michigan, 19-12 overall
Key Departed Players:
Zavier Simpson, Guard, 12.9 ppg
Jon Teske, Center, 11.6 ppg
David Dejulius, Guard, 7.0 ppg
Colin Castleton, Center, 3.1 ppg
Cole Bajema, Forward, 2.9 ppg
Key Returning Players:
Isaiah Livers, Senior, Forward, 12.9 ppg
Franz Wagner, Sophomore, Forward, 11.6 ppg
Eli Brooks, Senior, Guard, 10.6 ppg
Brandon Johns, Junior, Forward, 6.0 ppg
Austin Davis, Senior, Center, 4.9 ppg
Adrien Nunez, Junior, Guard, 2.0 ppg
Key New Players:
Chaundee Brown, Senior, Guard, Transfer from Wake Forest, Pending Waiver
Hunter Dickinson, Freshman, Center
Jace Howard, Freshman, Guard
Zeb Jackson, Freshman, Guard
Mike Smith, Senior, Guard, Grad Transfer from Columbia
Terrance Williams, Freshman, Forward
Projection:
Losing long-time leaders Zavier Simpson and Jon Teske will hurt, but Michigan will return their other three starters from last season. Isaiah Livers was a key player as a junior, which is highlighted by the team's 5-5 record in his absence last season. Livers averaged 12.9 points and helped stretch the floor with his 40.2% 3-point shooting. Franz Wagner made an immediate impact in his first collegiate season as he earned Big Ten All-Freshman Team honors. Wagner started all 27 of his games and averaged 11.6 points, 5.6 rebounds and 1.3 steals. Eli Brooks is the third and final returning starter for Michigan. Brooks improved greatly as a junior, upping his points per game from 2.5 as a sophomore to 10.6 last season. Brandon Johns, Austin Davis and Adrien Nunez round out the returning players for the Wolverines. Johns impressed in extended playing time with Livers injured and should see a much bigger role as a junior. Michigan brings in one graduate transfer and could have another based on the decision of a waiver. Mike Smith is a 5-11 guard from Columbia who earned All-Ivy League honors last season behind 22.8 points, 4.5 assists, 4.1 rebounds and 1.5 steals. The Big Ten is a major step up in competition, but Smith gives the Wolverines an experienced guard to help replace Zavier Simpson. Chaundee Brown is a transfer from Wake Forest with one year of eligibility remaining, though since he has not graduated, he must await a decision from the NCAA on his waiver to play this season. The Wolverines also bring in a top-15 recruiting class led by three four-star prospects. Hunter Dickinson, Zeb Jackson and Terrance Williams are all rated inside the top-100 recruits on 247sports and all have potential to make instant impacts as freshmen. The Big Ten is going to be heavily competitive again this season, but Juwan Howard proved last year that he has what it takes to win at that level.
Projected Postseason Tournament:
NCAA
By the Numbers:
Scoring Offense: 75.0 (72nd in nation, 4th in conference)
Scoring Defense: 68.3 (145, 11)
Field-Goal Percentage: 46.2 (49, 1)
Field-Goal Defense: 42.3 (142, 12)
Three-Point Field Goals Per Game: 8.0 (100, 5)
Three-Point Field-Goal Percentage: 33.9 (145, 5)
Free-Throw Percentage: 71.7 (145, 8)
Rebound Margin: 0.9 (156, 11)
Assists Per Game: 14.6 (55, 4)
Turnovers Per Game: 10.7 (14, 3)
Madness 2021 NBA Draft Rankings:
#47 Franz Wagner

Madness 2020 Men's Basketball Recruit Rankings:
#41 Hunter Dickinson

#81 Zeb Jackson

#96 Terrance Williams