Boise State Broncos
Overall Rank: #18
#1 Mountain West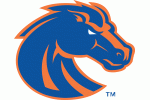 Once again Boise State won a Mountain West title last season. But this time was a little bit different. It was the first time under Coach Bryan Harsin that the Broncos went a perfect 8-0. A loss at BYU ended hopes of a perfect regular season and a trip to a New Year's Six Bowl. Instead Boise State went to the Las Vegas Bowl and was completely shut down by Washington. That leaves some questions heading into the 2020 campaign.
2019 Record: 12-2, 8-0
2019 Bowl: Las Vegas Bowl vs. Washington (L 7-38)
Coach: Bryan Harsin (64-17 at Boise State, 71-22 overall)
Offensive Coordinator: Eric Kiesau
Defensive Coordinator: Jeff Schmedding, Spencer Danielson
Returning Leaders:
Rushing: George Holani, RB, 1,014 yards
Passing: Hank Bachmeier, QB, 1,879 yards
Receiving: Khalil Shakir, WR, 872 yards
Tackles: Riley Whimpey, LB, 83
Sacks: Demitri Washington, LB, 4.5
Interceptions: 5 tied with 1
Other Key Returnees: RB Robert Mahone, QB Chase Cord, WR CT Thomas, TE John Bates, LB Benton Wickersham, DB Kekaula Kaniho, CB Jalen Walker, CB Avery Williams
Key Losses: QB Jaylon Henderson, WR John Hightower, OL Ezra Cleveland, OL John Molchon, OL Garrett Larson, DL Curtis Weaver, DL Chase Hatada, DL Sonatane Lui, DB Kekoa Nawahine
Offense:
Hank Bachmeier had some great moments playing quarterback as a freshman. He also had some moments that made him look like a freshman. The expectations are that now he will be able to cut back on those mistakes and be a more consistent signal caller. He has the talent to do it. He will have some talented receivers to work with too. John Hightower is gone and the team will need to find a new deep threat, but Khalil Shakir and CT Thomas are very talented receivers. Shakir caught a team high 63 passes for 872 yards and six scores, while Thomas added 41 receptions for 522 yards and five trips to the end zone. The Broncos will be very balanced on offense too with George Holani rushing for 1,014 yards last season. He could be in for another big season, but it may take some time for the offensive line to rebuild.
Defense:
The secondary should be the strength of the defense with the return of Jalen Walker, Avery Williams and Kekaula Kaniho. Throwing on the Broncos will not be easy, but the secondary performed so well last season because the front seven got a consistent pass rush. Without Curtis Weaver and his 13.5 sacks and the strength of David Moa creating space for the pass rushers, this group could struggle to get to the quarterback. There are some unproven options that have the talent to fill those roles, but there is not much experience. If there is not a consistent pass rush, the rest of the defense will be put under a lot more pressure than they had to deal with last season.
The Bottom Line:
Boise State's big non-conference game this year is against Florida State, a team they beat on the road in last year's opener 36-31. At home the Broncos will expect another win. But one week before that contest could be the toughest conference game on the schedule when the Broncos head to Air Force on September 12th. Those two games will be very telling for Boise State and a couple wins there will have Boise State fans thinking about a perfect regular season.
2019 Team Stats:
Rushing Offense: 167.3 (59th in nation, 5th in conference)
Passing Offense: 261.7 (38, 5)
Total Offense: 429.0 (48, 4)
Scoring Offense: 34.7 (19, 1)
Rushing Defense: 112.7 (15, 4)
Pass Defense: 233.6 (77, 6)
Total Defense: 346.3 (33, 3)
Scoring Defense: 21.9 (31, 4)
Turnover Margin: 0.00 (61, 5)
Sacks Allowed: 1.93 (62, 9)