Overall Rank: #25
#4 Pac-12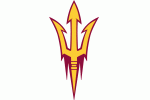 Arizona State was mocked by a lot of the national pundits a couple of years ago when they hired Herm Edwards to replace Todd Graham as head coach. However, after the first couple of seasons of the Edwards regime there is a nice mix of stability and excitement as the Sun Devils won eight games last year and are making inroads in California and other places like Texas on the recruiting trail. The next step for Coach Edwards and his staff is to win the Pac-12 South Division championship, which should be a wide open race in 2020.
2019 Record: 8-5, 4-5
2019 Bowl: Tony the Tiger Sun Bowl vs. Florida State (20-14 W)
Coach: Herm Edwards (15-11 at Arizona State, 15-11 overall in college)
Offensive Coordinator: Zak Hill
Defensive Coordinator: Antonio Pierce and Marvin Lewis
Returning Leaders:
Rushing: Jayden Daniels, QB, 355 yards
Passing: Jayden Daniels QB, 2,943 yards
Receiving: Frank Darby, WR, 616 yards
Tackles: Darien Butler, LB, 90
Sacks: Jermayne Lole, DL, 6.5
Interceptions: Jack Jones, CB, 3
Other Key Returnees: DB Evan Fields, LB Merlin Robertson, CB Chase Lucas, S Aashari Crosswell, S Cam Phillips, K Cristian Zendejas, OL Ladarius Henderson, OL Dohnovan West, DL D.J. Davidson
Key Losses: WR Brandon Aiyuk, RB Eno Benjamin, LB Khaylan Kearse-Thomas, DB Kobe Williams, WR Kyle Williams, P Michael Turk, OL Alex Losoya, OL Cohl Cabral, DL Roe Wilkins
Offense:
In order for Arizona State to take the next step under Coach Edwards, they will need to become a little more dynamic on offense. The Sun Devils averaged just 24.8 points per game and just 372.1 yards per game in 2019. Jayden Daniels did some very nice things as a freshman last year as he led Arizona State to a 31-28 win over Oregon in November that knocked the Ducks out of contention for the College Football Playoff. Taking care of the football was another strength for Daniels as he threw for 2,943 yards, 17 touchdowns and just two interceptions. Frank Darby will take over for Brandon Aiyuk as the number one wide receiver after Aiyuk was drafted in the first round of the 2020 NFL Draft by the San Francisco 49ers. Pass protection will be something to watch as ASU allowed 2.54 sacks per game in 2019, which resulted in the Sun Devils being ranked 103rd in the nation in sacks allowed. New offensive coordinator Zak Hill comes over from Boise State and should be able to adapt the offense to the strengths of Daniels and protect any weaknesses along the offensive line while improving the running game at the same time.
Defense:
Antonio Pierce and Marvin Lewis will take over as co-coordinators in 2020 and they have some nice pieces to work with as well. Stopping the run is a definite strength for Arizona State as they only allowed 125.1 yards per game on the ground last season. Darien Butler and Merlin Robertson will lead a linebacker group that has a great knack for finding the ball and making plays. Jermayne Lole is coming off of 6.5 sack performance in 2019 along with 10 tackles for loss. The secondary has some nice playmakers, but will need to get that passing yards per game total down below 240 this season after surrendering 268.2 per game last season. Cristian Zendejas is back at kicker in 2020 and was very consistent as he made 23 of 27 field goals in 2019. The field position battle will need to be addressed since punter Michael Turk will be hard to replace after averaging 46 yards per kick last season.
The Bottom Line:
Northern Arizona visits on September 3rd to kick off the season and that game will be followed up by games with UNLV and BYU. The Sun Devils should be 3-0 by the time play at USC on September 26th. The two toughest crossover games for Arizona State will be against California and Oregon as the game against the Ducks will be on a Friday night up at Autzen Stadium. Utah and Arizona will round out the regular season schedule with the Utes coming to Tempe before turning around and driving down to Tucson for the Territorial Cup. Look for the Sun Devils to contend for the Pac-12 South for the majority of the season and end up with nine wins heading into bowl season. If Arizona State football was a stock, you would buy it as the future is very bright right now in Tempe.
2019 Team Stats:
Rushing Offense: 123.2 (115th in nation, 9th in conference)
Passing Offense: 248.8 (53, 8)
Total Offense: 372.1 (92, 10)
Scoring Offense: 24.8 (96, 9)
Rushing Defense: 125.1 (26, 2)
Pass Defense: 268.2 (115, 7)
Total Defense: 393.3 (67, 5)
Scoring Defense: 22.4 (35, 5)
Turnover Margin: 1.08 (6, 2)
Sacks Allowed: 2.54 (103, 9)