Michigan Wolverines
Overall Rank: #15
Conference Rank: #1 Big Ten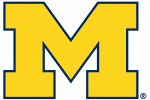 Michigan had an absolutely amazing 2019 campaign. Most did not expect the Wolverines to even reach the NCAA Tournament. And they barely did, earning the third seed in the Corvallis Regional. Michigan was able to avoid the hosts who were very quickly eliminated and managed to take the deciding game against Creighton to advance to the Super Regionals. There they ran into top overall seed UCLA and managed to knock them off in a thrilling three game series. In Omaha, Michigan beat Texas Tech, Florida State and Texas Tech again to reach the championship series against Vanderbilt. The Wolverines lost to the Commodores in three games, but even with that slight stumble to end things, Michigan is looking ahead to continuing that success in the future.
2019: 50-22, 16-7
2019 Postseason: College World Series
Coach: Erik Bakich
Key Departed Players:
Jordan Brewer, OF, .329 BA, 12 HR, 59 RBI, 25 SB
Blake Nelson, IF, .297 BA, 1 HR, 39 RBI, 18 SB
Jimmy Kerr, IF, .269 BA, 15 HR, 64 RBI
Ako Thomas, IF, .267 BA, 2 HR, 32 RBI
Karl Kauffman, P, 3.03 ERA, 12-7 W/L, 130.2 IP, 111 SO
Tommy Henry, P, 3.27 ERA, 12-5 W/L, 124.0 IP, 135 SO
Key Returning Players:
Jordan Nwogu, OF, .321 BA, 12 HR, 46 RBI, 16 SB
Jack Blomgren, IF, .314 BA, 3 HR, 47 RBI
Jesse Franklin, OF, .262 BA, 13 HR, 55 RBI
Joe Donovan, C, .234 BA, 9 HR, 37 RBI
Jeff Criswell, P, 2.72 ERA, 7-1 W/L, 106.0 IP, 116 SO
Willie Weiss, P, 2.97 ERA, 2-2 W/L, 39.1 IP, 50 SO, 9 SV
Ben Dragani, P, dnp last season
Projection:
This team does have some big holes to fill, but they also return enough experience to win the Big Ten and make another deep tournament run. Jeff Criswell will anchor the pitching staff after going 7-1 with a 2.72 ERA last season. In 106.0 innings of work, Criswell struck out 116 batters. Ben Dragani is back after missing last season and that will provide Coach Bakich with more starting options. Dragani was a Freshman All-American in 2018 where he tallied 2.76 ERA in 11 starts and 16 total appearances. The Wolverines have a very experienced bullpen too, led by closer Willie Weiss who tallied nine saves last season. Offensively there is plenty to be excited about too. Jordan Nwogu is the most dynamic threat after hitting .321 with 12 homeruns, 46 RBIs and 16 stolen bases. Fellow outfielder Jesse Franklin is the team's top returning power hitter, belting 13 homeruns with 55 RBIs. Catcher Joe Donovan can hit for plenty of power too and Jack Blomgren hit .314 last season. With proven options like Dominic Clementi also on the roster, Michigan does not lack in experience. As long as a couple younger players can fill the few holes on the roster, this is a Michigan squad that should continue their momentum and have another impressive season.