Michigan Wolverines
2019-2020 Overall Rank: #28
Conference Rank: #6 Big Ten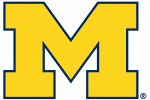 The Wolverines won 30 games for the second straight season and made their fourth consecutive NCAA Tournament in 2019. This year, Michigan basketball will start a new chapter as John Beilein left for the NBA and ex-Wolverine player Juwan Howard takes over as head coach. Beilein turned Michigan into a consistent contender in the Big Ten, leading the Wolverines to nine NCAA Tournaments in 12 seasons. Howard will have his hands full as the top three scorers from last year are all in the NBA now. Senior leaders Zavier Simpson and Jon Teske are back though, which will help keep the Wolverines competitive during the transition.
2018-19 Record: 30-7, 15-5
2018-19 Postseason: NCAA
Coach: Juwan Howard
Coach Record: 0-0 at Michigan, 0-0 overall
Key Departed Players:
Ignas Brazdeikis, Forward, 14.8 ppg
Jordan Poole, Guard, 12.8 ppg
Charles Matthews, Guard, 12.2 ppg
Key Returning Players:
Jon Teske, Senior, Center, 9.5 ppg
Zavier Simpson, Senior, Guard, 8.8 ppg
Isaiah Livers, Junior, Forward, 7.9 ppg
Eli Brooks, Junior, Guard, 2.5 ppg
Colin Castleton, Sophomore, Forward, 1.1 ppg
Austin Davis, Senior, Forward, 1.0 ppg
Brandon Johns, Sophomore, Forward, 0.8 ppg
David DeJulius, Sophomore, Guard, 0.6 ppg
Adrien Nunez, Sophomore, Guard, 0.2 ppg
Key New Players:
Cole Bajema, Freshman, Guard
Franz Wagner, Freshman, Guard
Projection:
Michigan has no double-digit scorers returning, but seniors Zavier Simpson and Jon Teske should form one of the top duos in the Big Ten this year. Simpson has become one of the all-time great Wolverine players as he's currently seventh all-time in assists, including recording the second most in a single-season last year. Simpson averaged just 8.8 points last season, but still earned All-Big Ten Second Team and All-Defensive Team honors. Simpson fills the stat sheet in other ways with 6.6 assists, 5.0 rebounds and 1.4 steals per game, and that's not even accounting for his tremendous on-court leadership. Teske has only been a full-time starter for one season, but he ranks 10th all-time in blocks at Michigan. Last year, Teske averaged 9.5 points, 7.0 rebounds and 2.0 blocks. Teske is one of the top interior defenders in the nation. Isaiah Livers could be in line for a breakout junior season as he becomes a full-time starter. Livers averaged 7.9 points and 3.9 rebounds in just 22.6 minutes per game last year. Now that the big three players ahead of him on the depth chart are in the NBA, Livers will see a bigger role which should result in better numbers. The Wolverines then have an array of returning reserves from last year's 30-win team. Eli Brooks is the only one who played more than five minutes per game. It will be crucial to Michigan's success this year that multiple players from this group step up and become reliable rotation players. Brandon Johns is a strong candidate as a former four-star, top-100 recruit who is oozing potential as a 6-foot-8 forward. David DeJulius and Colin Castleton were also four-star recruits, so the talent is there for Juwan Howard to take advantage of. Michigan will have two freshmen joining the roster as well. Cole Bajema and Franz Wagner are both four-star recruits who are ranked just outside of the 247sports composite top-100. Wagner is the younger brother of former Wolverine star Mo Wagner, and he could contribute and become a fan-favorite immediately. Michigan will feel different this year without John Beilein on the sidelines, but Juwan Howard should be set up with a team capable of competing in the Big Ten this year.
Projected Postseason Tournament:
NCAA
By the Numbers:
Scoring Offense: 69.6 (259th in nation, 10th in conference)
Scoring Defense: 58.3 (2, 1)
Field-Goal Percentage: 44.8 (155, 7)
Field-Goal Defense: 39.7 (16, 4)
Three-Point Field Goals Per Game: 7.8 (171, 5)
Three-Point Field-Goal Percentage: 34.2 (192, 7)
Free-Throw Percentage: 70.1 (194, 8)
Rebound Margin: 0.9 (155, 9)
Assists Per Game: 13.8 (138, 7)
Turnovers Per Game: 9.1 (2, 1)
Madness 2019 Men's Basketball Recruit Rankings:
#101 Cole Bajema