Michigan Wolverines
Overall Rank: #29
Conference Rank: #5 Big Ten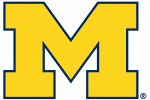 Michigan has been a very consistent program under Coach Kim Barnes Arico. The Wolverines have won at least 20 games in each of her seven seasons leading the program. That has resulted in four trips to the NIT and just three trips to the NCAA Tournament, so the end result is not always what Michigan wants, but it seems very likely that once again Michigan will be right on the cusp of earning a trip to the big dance. Three starters are gone heading into the 2019-2020 campaign, yet everybody else is returning. If some of those former role-players are ready for a larger role, Michigan could do more than just make the NCAA Tournament.
2018-19 Record: 22-12, 11-7
2018-19 Postseason: NCAA
Coach: Kim Barnes Arico
Coach Record: 156-85 at Michigan, 426-291 overall
Key Departed Players (starters in bold)
Hallie Thome, Center, 11.8 ppg
Nicole Munger, Guard, 10.2 ppg
Deja Church, Guard, 8.6 ppg
Key Returning Players (starters in bold)
Hailey Brown, Junior, Forward, 7.8 ppg
Amy Dilk, Sophomore, Guard, 7.2 ppg
Naz Hillmon, Sophomore, Forward, 13.1 ppg
Akienreh Johnson, Senior, Guard, 5.6 ppg
Kayla Robbins, Senior, Forward, 5.6 ppg
Emily Kiser, Sophomore, Forward, 1.9 ppg
Priscilla Smeenge, Junior, Guard, 1.3 ppg
Ariel Young, Sophomore, Guard, 0.8 ppg
Danielle Rauch, Sophomore, Guard, 0.4 ppg
Key New Players
Maddie Nolan, Freshman, Guard
Michelle Sidor, Freshman, Guard
Izabel Varejao, Freshman, Center
Projection:
Naz Hillmon did not start a game as a freshman, but the 6-2 forward led the team with 13.1 points and 7.0 rebounds. She shot an impressive 62.8 percent from the floor and Michigan has an efficient and effective interior scorer with Hillmon. Fellow forward Hailey Brown can score in the paint as well, but she will also stretch the defense with her outside shooting ability. Brown started all 34 games last season and will be in for a big junior season. The other returning starter is Amy Dilk. She dished out a team high 4.4 assists per game and added 7.2 points. Dilk does need to be more efficient on the offensive end of the floor, especially now that she will be asked to do more for this team and emerge as a leader. Seniors Akienreh Johnson and Kayla Robbins were key pieces off the bench last year and could play a similar role this season. However, both do have the experience to step into starting roles if necessary. They will have to hold off some of the newcomers either way. Michelle Sidor is the highest regarded of the newcomers and she should be a potent scoring option from day one. Izabel Verajao, a 6-4 center, has the ability to make an impact all over the floor, but Michigan will be in good shape if Verajao can be effective on the glass and play solid defense.
Projected Postseason Tournament:
NCAA
By the Numbers:
Scoring Offense: 71.7 (66th in nation, 5th in conference)
Scoring Defense: 63.6 (148, 6)
Field-Goal Percentage: 45.1 (23, 3)
Field-Goal Defense: 40.2 (194, 8)
Three-Point Field Goals Per Game: 4.5 (291, 12)
Three-Point Field-Goal Percentage: 32.9 (105, 7)
Free-Throw Percentage: 69.8 (166, 11)
Rebound Margin: 7.4 (20, 2)
Assists Per Game: 15.2 (65, 5)
Turnovers Per Game: 16.6 (221, 13)
Madness 2019 Women's Basketball Recruit Rankings:
#52 Michelle Sidor

#105 Izabel Verajao