Boise State Broncos
Overall Rank: #31
#1 Mountain West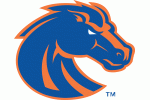 Boise State's season ended with a loss to Fresno State in the Mountain West Championship game and a cancelled bowl against Boston College. It was not an ideal conclusion to another successful Broncos campaign, but Coach Bryan Harsin will have his team back in the conference championship game in 2019 despite some key offensive losses.
2018 Record: 10-3, 7-1
2018 Bowl: First Responder Bowl vs. Boston College (Cancelled)
Coach: Bryan Harsin (52-15 at Boise State, 59-20 overall)
Offensive Coordinator: Zak Hill
Defensive Coordinator: Jeff Schmedding
Returning Leaders:
Rushing: Andrew Van Buren, RB, 163 yards
Passing: Chase Cord, QB, 67 yards
Receiving: CT Thomas, WR, 535 yards
Tackles: Kekoa Nawahine, S, 71
Sacks: Curtis Weaver, LB, 9.5
Interceptions: Kekaula Kaniho, S, 3
Other Key Returnees: WR John Hightower, OL John Molchon, OL Ezra Cleveland, LB Riley Whimpey, CB Avery Williams
Key Losses: RB Alex Mattison, QB Brett Rypien, WR Sean Modster, WR AJ Richardson, DL Jabril Frazier, DL Durrant Miles, LB Tyson Maeva, CB Tyler Horton
Offense:
Boise State lost their quarterback, running back and top two receivers, but this team is always ready to reload. Chase Cord started as Brett Rypien's primary backup last year, but only played in four games before tearing an ACL. Senior Jaylon Henderson has some experience too and true freshman Hank Bachmeier will be the star of the future. Cord is the most likely one to win the job this fall, but the competition will last well into camp. Even though Sean Modster and AJ Richardson are gone, there are still quite a few talented and experienced wide receivers on the roster. CT Thomas and John Hightower each accounted for over 500 receiving yards in 2018. Hightower is a very dangerous big play receiver and averaged over 16 yards per catch and 20 yards per carry. Running back Alexander Mattison was a workhorse last year, rushing for 1,415 yards on 302 carries. Andrew Van Buren and Robert Mahone had 34 and 32 carries, respectively, as Mattison's backup, and now those two will have to attempt to pick up the slack. With all five starting offensive linemen returning, there are high hopes for the offense.
Defense:
The defense will welcome new coordinator Jeff Schmedding after Andy Avalos left for Oregon. The tweaks to the system are about the only concern though. On the field the Broncos return a ton of talent to a unit that allowed just 22.1 points per game. The front three is loaded with experience with David Moa and Sonatane Lui leading the way. Hybrid linebacker/defensive end Curtis Weaver will again provide Mountain West quarterbacks with plenty of nightmares after he tallied 9.5 sacks in 2018. Riley Whimpey was having a great season until an injury ended it in November. He still ranked third on the team with 55 tackles and will step back into his starting linebacker spot. Avery Williams will soon be a star cornerback, but the secondary will need to grab a few more interceptions. But with so many players returning who have at least some starting experience, creating turnovers should not be a problem.
The Bottom Line:
The new quarterback will have no time to adjust with a game against Florida State in Jacksonville opening up the 2019 season. The Broncos may need a little more time than that to break in the new offensive pieces, but by the time the heart of the Mountain West season is upon us, this group will be extremely difficult for every team on their schedule. Boise State does not play Fresno State during the regular season, but those are the two teams who will likely meet, again, in the conference championship game.
2018 Team Stats:
Rushing Offense: 167.5 (66th in nation, 5th in conference)
Passing Offense: 292.0 (18, 4)
Total Offense: 459.5 (21, 2)
Scoring Offense: 35.4 (20, 2)
Rushing Defense: 122.9 (20, 3)
Pass Defense: 233.0 (70, 5)
Total Defense: 355.9 (39, 4)
Scoring Defense: 22.1 (30, 3)
Turnover Margin: 0.85 (10, 3)
Sacks Allowed: 2.46 (85, 7)
Madness 2020 NFL Draft Rankings:
#49 Curtis Weaver