Michigan Wolverines
Overall Rank: #28
Conference Rank: #4 Big Ten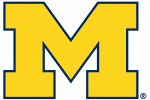 After four straight trips to the WNIT, Michigan finally made it back to the NCAA Tournament last season. Once there the Wolverines knocked off Northern Colorado before falling to Baylor in the Second Round. Another trip should be expected with six of their top seven scorers back. However, with Katelynn Flaherty gone, this team will be looking for a new superstar on the perimeter. Flaherty averaged 22.9 points per game and connected on 118 three-pointers.
2017-18 Record: 23-10, 10-6
2017-18 Postseason: NCAA
Coach: Kim Barnes Arico
Coach Record: 134-73 at Michigan, 404-279 overall
Key Departed Players (starters in bold)
Katelynn Flaherty, Guard, 22.9 ppg
Jillian Dunston, Forward, 3.3 ppg
Key Returning Players (starters in bold)
Hallie Thome, Senior, Center, 17.4 ppg
Nicole Munger, Senior, Guard, 9.1 ppg
Hailey Brown, Sophomore, Forward, 9.0 ppg
Deja Church, Sophomore, Guard, 7.0 ppg
Akienreh Johnson, Junior, Guard, 3.8 ppg
Kayla Robbins, Junior, Forward, 3.5 ppg
Key New Players
Amy Dilk, Freshman, Guard
Naz Hillmon, Freshman, Forward
Emily Kiser, Freshman, Forward
Danielle Rauch, Freshman, Guard
Taylor Rooks, Senior, Guard/Forward, Grad Transfer from Harvard
Ariel Young, Freshman, Guard
Projection:
Hallie Thome figures to be the new top scorer after the 6-5 center averaged 17.4 points and a 7.0 rebounds last season. Hailey Brown is ready for a big year after averaging 9.0 points and 5.2 rebounds as a freshman. Those two will give Michigan a solid foundation in the frontcourt. The backcourt will be led by senior guard Nicole Munger. She is a consistent outside shooter who will be expected to take over a big chunk of the outside shooting that left with Flaherty. Deja Church was the top scorer off the bench last season, averaging 7.0 points per game. She is ready to step into the starting lineup, but Coach Kim Barnes Arico is bringing in a lot of talent. Taylor Rooks, a graduate transfer from Harvard who also played at Stanford, has the experience to step in and play a big role right away. There are also four freshmen who are immediately capable of making a big splash. Point guard Amy Dilk is coming off a superb prep career at Carmel High School in Indiana and could run the point from day one. The backcourt will also acquire more options from Ariel Young. The frontcourt needs some options too and will get them from freshmen Naz Hillmon and Emily Kiser. With a nice combination of experience and young talent, this is a Michigan team that could pull off a few surprises along the way. Even if the freshmen do not live up to their potential right away, there is enough experience to compete for an NCAA Tournament berth.
Projected Postseason Tournament:
NCAA
By the Numbers:
Scoring Offense: 74.9 (40th in nation, 6th in conference)
Scoring Defense: 62.5 (111, 2)
Field-Goal Percentage: 47.2 (11, 2)
Field-Goal Defense:38.5 (77, 3)
Three-Point Field Goals Per Game: 6.6 (105, 4)
Three-Point Field-Goal Percentage: 40.2 (2, 1)
Free-Throw Percentage: 76.6 (19, 2)
Rebound Margin: 8.5 (17, 1)
Assists Per Game:15.1 (75, 7)
Turnovers Per Game: 16.5 (232, 13)
Madness 2019 WNBA Draft Rankings:
#18 Hallie Thome

Madness 2018 Women's Basketball Recruit Rankings:
#51 Amy Dilk

#58 Naz Hillmon

#90 Ariel Young

#137 Emily Kiser