Arkansas State Red Wolves
Overall Rank: #55
#1 Sun Belt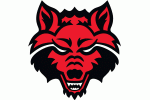 Arkansas State has turned into one of the most consistent programs in the Sun Belt. The Red Wolves have now been to seven straight bowl games, with the last four coming under Coach Blake Anderson. Last season though ended with some disappointment. Despite a record setting offense, Arkansas State lost out on a conference title following a home loss to Troy in the regular season finale and a defeat at the hands of Middle Tennessee in the Camellia Bowl.
2017 Record: 7-5, 6-2
2017 Bowl: Camellia Bowl vs. Middle Tennessee (L 30-35)
Coach: Blake Anderson (31-20 at Arkansas State, 31-20 overall)
Offensive Coordinator: Buster Faulkner
Defensive Coordinator: Joe Cauthen
Returning Leaders:
Rushing: Warren Wand, RB, 715 yards
Passing: Justice Hansen, QB, 3,967 yards
Receiving: Justin McInnis, WR, 800 yards
Tackles: BJ Edmonds, FS, 80
Sacks: Ronheen Bingham, DE, 5.0
Interceptions: BJ Edmonds, FS, 3
Other Key Returnees: WR Omar Bayless, OL Lanard Bonner, LB Justin Clifton, S Darreon Jackson, K Sawyer Williams
Key Losses: RB Johnston White, WR Chris Murray, TE Blake Mack, LB Kyle Wilson, CB Blaise Taylor, DE Ja'Von Rolland-Jones, DE Caleb Caston
Offense:
The Red Wolves ranked fifth in the country in passing offense with 342.2 yards per game. They should continue to cut it loose in the passing attack with quarterback Justice Hansen returning. Last year he threw for 3,967 yards and 37 touchdowns and this season he will look to eclipse the 4,000 yard plateau. With plenty of talent left at wide receiver, it should be a feasible goal. Justin McInnis is the top returning pass catcher, but the addition of Kirk Merritt from Texas A&M and Dahu Green from Oklahoma makes this an even more talented group than last year's. Warren Wand, when healthy, is a proven running back. He missed a couple games in 2017, but still managed to rush for 715 yards and six scores.
Defense:
The defense will have a difficult time replacing Ja'Von Rolland-Jones. He tallied 13.0 sacks last season and finished his impressive career with 43.5 sacks. Sophomore nose guard Hunter Moreton is a very promising talent and the pressure will be on Ronheen Bingham to emerge as the team's top pass rushing threat after recording 5.0 sacks in 2017. He only started one game last year, but still made an impact in just about every contest. The linebackers are very young, but Caleb Bonner started five games as a freshman and should emerge as a leader in the middle of the defense. The secondary has much more experience, led by senior nickel safety Justin Clifton and junior strong safety B.J. Edmonds. Clifton recorded 63 tackles and 13 pass break-ups, while Edmonds tallied 80 tackles with three interceptions. All three regulars at cornerback are gone though and those spots will likely be filled by Jeremy Smith and Brandon Byner.
The Bottom Line:
The schedule works out nicely for Arkansas State to win a Sun Belt title in 2018. They do not have to play Troy and they get Appalachian State at home. The offense should be able to outscore just about everybody else on the conference schedule. If the defense can find some playmakers at linebacker and get consistent pressure from Bingham, Arkansas State will get to their eighth straight bowl and possibly win a Sun Belt title along the way.
2017 Team Stats:
Rushing Offense: 152.6 (79th in nation, 5th in conference)
Passing Offense: 342.2 (5, 1)
Total Offense: 494.8 (10, 1)
Scoring Offense: 37.8 (13, 1)
Rushing Defense: 136.1 (33, 2)
Pass Defense: 241.4 (91, 6)
Total Defense: 377.5 (54, 3)
Scoring Defense: 25.8 (56, 4)
Turnover Margin: -0.08 (75, 6)
Sacks Allowed: 2.75 (108, 9)