Western Michigan Broncos
Overall Rank: #95
#5 Mid-American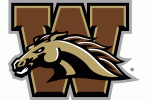 Western Michigan fell back to reality last year following their undefeated regular season in 2016. It was not a huge surprise and the Broncos and first year head coach Tim Lester did enough to win six games and compete in the MAC West. Coach Lester will take over the play calling duties this year and with an experienced offense, this should be an offense that can put up some big numbers.
2017 Record: 6-6, 4-4
2017 Bowl: None
Coach: Tim Lester (6-6 at Western Michigan, 6-6 overall)
Offensive Coordinator: Jake Moreland
Defensive Coordinator: Tim Daoust
Returning Leaders:
Rushing: Jamauri Bogan, RB, 589 yards
Passing: Jon Wassink, QB, 1,411 yards
Receiving: D'Wayne Eskridge, WR, 506 yards
Tackles: Stefan Claiborne, DB, 64
Sacks: Antonio Balabani, DE, 4.0
Interceptions: Sam Beal, CB, 2; Obie Jackson, DB, 2
Other Key Returnees: WR Keishawn Watson, C John Keenoy, OL Jake Juriga
Key Losses: RB Jarvion Franklin, TE Donnie Emsberger, OL Chukwuma Okorafor, LB Asantay Brown, LB Robert Spillane, CB Darius Phillips, P Derrick Mitchell
Offense:
Quarterback Jon Wassink had a very good sophomore season, throwing for 1,411 yards and 14 touchdowns in just eight games. He also completed 64.3 percent of his passes and threw just four interceptions. After he went down with an injury, the Broncos lost three of their last four games. Having him back at full health will immediately provide a nice boost to the offense. D'Wayne Eskridge is a big play threat and the addition of Michigan transfer Drake Harris will add another dynamic to an already solid group of receivers. Jamauri Bogan will take over the running back duties after taking a backseat to Jarvion Franklin last season. Bogan was the MAC Freshman of the Year back in 2015 and has proven that he can be a 1,000 yard rusher. LeVante Bellamy will be a superb secondary back if he can stay healthy.
Defense:
The secondary is the most experienced unit on the other side of the ball. Sam Beal is one of the best cornerbacks in the MAC. He broke up ten passes as a junior, including two interceptions. The return of safeties Justin Tranquill, who missed most of last season with an injury, and Stefan Claiborne, who record 64 tackles last season, gives WMU a solid back end of their defense. With ends Antonio Balabani, Eric Assoua and Ali Fayad, this is a group that can get to the quarterback. However, the rest of the front seven is quite inexperienced and a few new faces better be ready to step up or the Broncos will be involved in a lot of shootouts.
The Bottom Line:
Western Michigan fans will have an eye on the 2019 season. This group is quite young and there are not many seniors on the roster and the expectations will likely go up quite a bit after this year. For now though, this is a team that should be able to at least match their six win total of 2017. If the Broncos can exceed expectations this year and win eight or nine games, they will be the MAC favorites in 2019.
2017 Team Stats:
Rushing Offense: 135.3 (99th in nation, 3rd in conference)
Passing Offense: 297.5 (17, 1)
Total Offense: 432.8 (35, 2)
Scoring Offense: 30.6 (47, 3)
Rushing Defense: 197.9 (99, 4)
Pass Defense: 207.0 (42, 2)
Total Defense: 404.9 (75, 4)
Scoring Defense: 31.8 (94, 4)
Turnover Margin: 0.25 (45, 2)
Sacks Allowed: 3.83 (127, 4)