Michigan Wolverines
Overall Rank: #39
Conference Rank: #2 Big Ten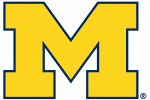 Michigan had a superb 2017 season and is a program on the rise. Last year the Wolverines won 42 games and reached the NCAA Tournament for the second time in three years. There are high hopes for the program under Coach Erik Bakich, but this year could be tough for Michigan. The talent is still there for this team to reach the NCAA Tournament, but there are some huge holes to fill.
2017: 42-17, 16-8
2017 Postseason: NCAA
Coach: Erik Bakich
Key Departed Players:
Michael Brdar, IF, .310 BA, 3 HR, 37 RBI
Johnny Slater, OF, .299 BA, 5 HR, 47 RBI
Drew Lugbauer, C/IF, .288 BA, 12 HR, 60 RBI
Oliver Jaskie, P, 3.77 ERA, 93.0 IP, 119 SO
Michael Hendrickson, P, 4.06 ERA, 75.1 IP, 70 SO
Jackson Lamb, P, 0.96 ERA, 28.0 IP, 28 SO, 12 SV
Key Returning Players:
Ako Thomas, IF, .354 BA, 0 HR, 21 RBI, 23 SB
Miles Lewis, OF, .296 BA, 1 HR, 33 RBI
Alec Rennard, P, 4.43 ERA, 65.0 IP, 654 SO
Projection:
Alec Rennard is the most experienced pitcher. The 6-3 senior went 6-2 with a 4.43 ERA. Every other pitcher who started over five games is gone. That will put a lot of pressure on players like Tommy Henry, Troy Miller and Will Tribucher to step up and be productive players on the mound. At the plate, Ako Thomas will lead a young lineup. The junior led Michigan with a .354 batting average and added 23 stolen bases. Fellow junior Miles Lewis is a speedster on the base paths as well. Those two will get on base, but somebody needs to be able to drive them home. With yet another superb recruiting class coming in, Michigan will have plenty of options to fill those holes. It may take some time for the new pieces to come together and the Wolverines will need some time, but this group can compete for a Big Ten title with an eye towards a very promising future.