Michigan Wolverines
Overall Rank: #18
Conference Rank: #3 Big Ten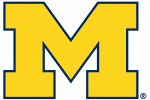 Michigan was snubbed by the NCAA Tournament, but they still made the most of their trip to the WNIT. The Wolverines proved they belonged in the NCAA Tournament by winning the WNIT, culminating with a thrilling triple overtime win over Georgia Tech in the final. Michigan will look to take the next step this year and that should not be an issue with the return of Katelynn Flaherty and Hallie Thome. Flaherty, a 5-7 senior, averaged 20.2 points per game last year and connected on 36.7 percent of her 297 three-point attempts. Thome is the inside threat. She averaged 16.2 points, with 7.1 rebounds and 2.0 blocks.
2016-17 Record: 28-9, 11-5
2016-17 Postseason: WNIT
Coach: Kim Barnes Arico
Coach Record: 111-63 at Michigan, 381-269 overall
Key Departed Players (starters in bold)
Siera Thompson, Guard, 7.9 ppg
Danielle Williams, Guard, 1.9 ppg
Kysre Gondrezick, Guard, 14.9 ppg
Maria Backman, Guard, 1.2 ppg
Key Returning Players (starters in bold)
Katelynn Flaherty, Senior, Guard, 20.2 ppg
Hallie Thome, Junior, Center, 16.2 ppg
Jullian Dunston, Senior, Forward, 5.8 ppg
Nicole Munger, Junior, Guard, 5.7 ppg
Kayla Robbins, Sophomore, Forward, 2.8 ppg
Akienreh Johnson, Sophomore, Guard, 3.2 ppg
KeAsja Peace, Sophomore, Forward, 1.4 ppg
Key New Players
Hailey Brown, Freshman, Forward
Deja Church, Freshman, Guard
Priscilla Smeenge, Freshman, Guard
Projection:
Flaherty and Thome will lead the way, but they need help, especially with the departures of Siera Thompson, Danielle Williams and Kysre Gondrezick. Jullian Dunston will join Thome in the frontcourt. She is not a great scorer, but Dunston is a superb rebounder. Kayla Robbins, KeAsja Peace and freshman Hailey Brown will provide plenty of frontcourt depth. On the perimeter, Nicole Munger will need to step into a larger role. With Deja Church adding more backcourt options and the flexibility of the frontcourt, Michigan should be able to find more than enough pieces to fill in around Flaherty and Thome. If those pieces contain a surprise player or two, Michigan could push for a spot at the top of the Big Ten standings.
Projected Postseason Tournament:
NCAA
By the Numbers:
Scoring Offense: 76.9 (18th in nation, 3rd in conference)
Scoring Defense: 61.8 (104, 3)
Field-Goal Percentage: 46.1 (13, 3)
Field-Goal Defense: 39.9 (174, 7)
Three-Point Field Goals Per Game: 7.5 (47, 3)
Three-Point Field-Goal Percentage: 38.1 (9, 1)
Free-Throw Percentage: 72.8 (87, 5)
Rebound Margin: 4.1 (73, 5)
Assists Per Game: 16.3 (21, 5)
Turnovers Per Game: 14.2 (71, 5)
Madness 2018 WNBA Draft Rankings:
#23 Katelyn Flaherty

Madness 2017 Women's Basketball Recruit Rankings:
#90 Deja Church

#115 Hailey Brown