Michigan Wolverines
2017-2018 Overall Rank: #36
Conference Rank: #5 Big Ten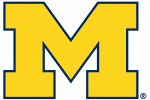 Michigan had another good season under Coach John Beilein in 2016-2017. The Wolverines made it to their sixth NCAA Tournament in the last seven years and made a nice run to the Sweet Sixteen. Once again Coach Beilein needs to rebuild his roster, but he has been down this road many times before with success. This time around Moritz Wagner will be one of the many players asked to step up. The 6-11 forward is the team's top returning scorer and rebounder with 12.1 and 4.2, respectively, and is extremely difficult to defend due to his outside shooting ability. Wagner may not end up as Michigan's top scorer this season, but he should remain a double digit scorer while causing nightmares for opposing defenses.
2016-17 Record: 26-12, 10-8
2016-17 Postseason: NCAA
Coach: John Beilein
Coach Record: 215-135 at Michigan, 691-410 overall
Who's Out:
There are big losses all over the court for Michigan. Derrick Walton, Jr. graduated after leading the team with 15.5 points, 5.0 assists and 1.1 steals per game. He was the team's go-to-scorer and knocked down an impressive 98 three-pointers at a 42.2 percent clip. Zak Irvin was not quite as consistent shooting the ball during his senior season, but the 6-6 wing was not far behind Walton in most other categories. The other lost senior is 6-9 forward Mark Donnal. He did not have a great senior year, but was always a tough player in the paint. Part of the reason Donnal was not as productive last season was due to the emergence of D.J. Wilson. Wilson averaged 11.0 points, 5.3 rebounds and 1.5 blocks during his breakout sophomore season and opted to enter the NBA Draft. He was selected 17th overall.
Who's In:
Coach Beilein will need to get some production out of eight newcomers and that should not be much of a problem. Isaiah Livers, the reigning Mr. Basketball in the state of Michigan, will add some much needed depth to the frontcourt. He is a versatile 6-7 forward who can do a little bit of everything. Austin Davis, who redshirted last season, has the size to be a significant player off the bench. Walk-on Naji Ozeir will add emergency depth to the frontcourt. The backcourt adds five newcomers, including two Division I transfers. Jaaron Simmons, a graduate transfer from Ohio, spent two seasons dominating the MAC. Last season he averaged 17.2 points and 6.5 assists. He may not replicate those numbers in the Big Ten, but Simmons is a superb all-around player who can certainly handle life in the Big Ten. Charles Matthews comes from Kentucky where he averaged 10.4 minutes per game as a freshman back in 2015-2016. Among the freshmen trio of Eli Brooks, Luke Wilson and Jordan Poole, it is Poole that has the potential to make an impact as a freshman.
Who to Watch:
The newcomers will push for major minutes, but the backcourt does have some talent returning. Muhammad-Ali Abdur-Rahkman figures to emerge as the leader of the unit after averaging 9.1 points per game as a junior. He has worked his way up the depth chart and now he will have the opportunity to be a senior leader. Xavier Simpson was the backup point guard last year and will have to help replace Walton. He averaged fewer than nine minutes per game as a freshman, but Simpson had some very promising moments. Duncan Robinson, a 6-7 wing, lost his starting job last year, but is ready to reclaim it during his senior season. At 6-8 and 215 pounds, Michigan will need his versatility and ability to score from anywhere on the floor. He will likely spend most of his time at the power forward spot, but he can play out on the wing depending on the situation.
Final Projection:
Coach Beilein has some very talented players to replace, but that happens just about every year and the Wolverines usually have the answers. This team has the shooters that Coach Beilein wants and enough big guys who can stretch the floor and be tough enough on the glass. The biggest potential issue is at point guard where Simpson and Simmons will have the job of keeping the turnovers down. The Wolverines ranked first in the country in turnovers per game with just 9.2. That will be difficult to duplicate, but Michigan cannot afford for that number to get up too much higher than that.
Projected Postseason Tournament:
NCAA
Projected Starting Five:
Xavier Simpson, Sophomore, Guard, 1.6 points per game
Jaaron Simmons, Senior, Guard, 17.2 points per game (at Ohio)
Muhammad-Ali Abdur-Rahkman, Senior, Guard, 9.1 points per game
Duncan Robinson, Senior, Forward, 7.7 points per game
Mortiz Wagner, Junior, Forward, 12.1 points per game
By the Numbers:
Scoring Offense: 75.0 (126th in nation, 5th in conference)
Scoring Defense: 66.4 (45, 3)
Field-Goal Percentage: 48.3 (19, 1)
Field-Goal Defense: 46.5 (299, 14)
Three-Point Field Goals Per Game: 9.5 (23, 1)
Three-Point Field-Goal Percentage: 38.5 (34, 2)
Free-Throw Percentage: 77.9 (8, 1)
Rebound Margin: -2.6 (277, 13)
Assists Per Game: 13.9 (138, 8)
Turnovers Per Game: 9.2 (1, 1)
Madness 2018 NBA Draft Rankings:
#29 Moritz Wagner

Madness 2017 Men's Basketball Recruit Rankings:
#86 Jordan Poole

#116 Isaiah Livers