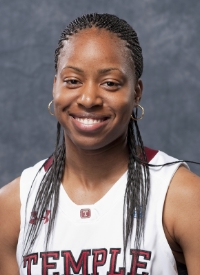 Shea Peddy, Senior, Point Guard, Temple
Overview:
Shea Peddy, a 5-7 point guard, started her collegiate career at Wright State. And she started off very strong. As a freshman she started every game but one and averaged an impressive 16.7 points, 3.4 assists, 3.9 rebounds and 3.2 steals. Her offense was immediately productive, but her work on the other end of the floor was also recognized.
She was named to the Horizon League All-Defensive Team again during the 2008-2009 campaign. Peddy's offense stuttered slightly during her sophomore campaign, but she did turn into a more consistent point guard who did a superb job finding her teammates. For the 2010-2011 season, Peddy had some new teammates after transferring to Temple. There she picked up right where she left off, leading the Owls with 14.1 points, 4.2 assists and 3.2 steals.
Final Projection:
What makes Peddy a potential pro is her ability to take care of the ball. At Temple in 2010-2011 she only committed 2.3 turnovers per contest. But the tough and scrappy point guard has a lot of draftable skills. She is a solid long range shooter, a surprisingly good rebounder and one of the peskiest defenders in the nation.