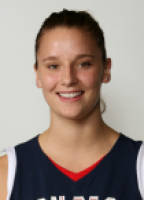 Kayla Standish, Senior, Forward Gonzaga
Overview:
Kayla Standish epitomizes what's great about college basketball. She has continually worked on her game after playing in a reserve role her first two seasons and has now positioned herself for a first round draft status potential based on her versatility, pure raw physical ability, and ability to make herself a better basketball player on a daily basis.
In 2010-11, Standish had a tremendous breakout season as a junior. She was all West Coast Conference and absolutely was very tough to stop as she scored 17.1 points per game, and was 13th in field goal percentage at 56 percent, and along with Courtney Vandersloot led the Lady Zags to an Elite Eight showdown in Spokane with Stanford thanks to huge wins over UCLA and Louisville along the way.
Final Projection:
The ability to play any one of four positions effectively should help Standish in her quest to build on her junior season. With Vandersloot graduating, and moving on to the Chicago Sky, Standish will be relied upon heavily to lead the Zags back to the NCAA Tournament for another deep run. The upside potential for Standish is unlimited and should be very appealing towards WNBA teams drafting near the end of the first round like the Seattle Storm who will be without Lauren Jackson for part of the 2012 season.