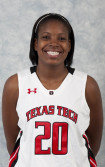 Kierra Mallard, Senior, Forward, Texas Tech
Overview:
Kierra started off her freshman year strong playing in all 31 games with 23 starts, was named to the All-Big 12 Freshman team; she also had four double-doubles. She established a very tough minded presence down low averaging nearly eight rebounds per contest. In her sophomore year of 2009-10, she improved her scoring to 11.4 ppg, and was still steady on the boards at just over seven rebounds per contest. Mallard also became a shot blocking force as she had 55 blocked shots while starting only 22 games for the Lady Red Raiders.
In 2010-11 Mallard was named to the All Big 12 second team. Mallard started in 32 of the 33 games and was very consistent in her performances throughout. She had a career high nine three pointers, her scoring average went up again to 12.0 ppg and she had seven double-doubles. Also, Mallard was the MVP of the World Vision classic.
Final Projection
If Mallard continues to expand her game from the perimeter this should make her more valuable to WNBA scouts. The ability to score from inside and outside is going to make her very difficult to stop during the Big 12 season. Coaches will have a challenge on their hands in trying to stop Mallard.