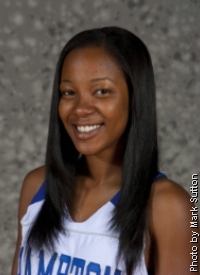 Jericka Jenkins, Senior, Guard, Hampton
Overview:
This is arguably the feel good story of the 2012 WNBA Draft. Jericka Jenkins has overcome tremendous odds surviving a cancer diagnosis of Hodgkin's Lymphoma at the age of 14. She made the MEAC All-Rookie Team as a freshman and was second in scoring at 8.6 ppg, thus making an instant impact on the Lady Pirates program. As a sophomore, Jenkins had nearly a two to one assist to turnover ratio at 1.9, which is strong for a point guard at any level of basketball. She was also second on the team in scoring as well.
In 2010-11 Jenkins broke out as a primetime point guard. She compiled a nearly three to one assist to turnover ratio, led the team in scoring, minutes played at just over 38 per game, free-throw shooting and led the Hampton program to a 25 win season and a NCAA tournament appearance against Kentucky.
Final Projection:
Jenkins should be able to propel the Hampton squad back toward the top of the MEAC Conference. Her ability to distribute the basketball so effectively is amongst the best in Women's College Basketball. Also, her ability to overcome adversity in regard to surviving cancer should leave no doubt about Jericka's mental toughness to be able to compete on the basketball court at any level.