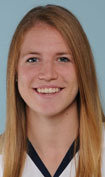 Natalie Novosel, Senior, Guard, Notre Dame
Overview:
Natalie spent the majority of her first two seasons coming off the bench for Muffett McGraw's squad but she still made an impact on the floor when she got the chance. In her freshman year, Natalie made a huge impact on the defensive side of things with 45 steals which was second on team. Then she shot almost 50 percent from the floor laying the foundation for the years ahead. As a sophomore, Noose cracked the starting lineup for her first four career starts and she averaged 5.0 points per contest. But her contributions defensively and energy wise off the bench can't be measured truly by the stat sheet
In 2010-11 Natalie had a definite breakout season as she started all 39 games, led the team in scoring at 15.0 points per game, was deadly from behind the three point arc at 41.3 percent and helped carry the Irish to the National Championship Game against Texas A&M.
Final Projection:
The sky is the limit for Novosel's draft stock as she has worked tirelessly to improve her play every season. She should benefit nicely form being a finalist for the 2011 World University Games team going up against the best of the best for Team USA. On the Notre Dame side of things look for Novosel, and her backcourt mate, Skylar Diggins, to lead the Fighting Irish back to another Final Four appearance in 2012.