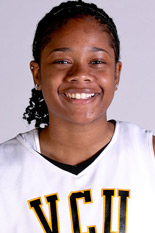 Courtney Hurt, Senior, Forward, VCU
Overview:
Courtney Hurt has quietly evolved into one of the nation's elite players. Playing at a mid-major in VCU, Hurt was not highly recruited but has not let that get in her way of competing with the nation's best. As a freshman she saw action in 31 games coming off the bench and was second on the team in blocked shots. Her sophomore campaign led to Hurt cracking the starting lineup for 20 of the final 21 games and her scoring took off going up to 13.7 points and she had 7.7 rebounds per contest as the Rams went to the WNIT.
In 2010-11 Courtney burst onto scene in a big way in her first full year as a starter. Hurt was second in the NCAA in scoring at 23.2 points per game. She also led the country in rebounding and double-doubles which is a testament to her consistency and dominance during her junior season.
Final Projection:
Look for Hurt to build on her excellent junior season, and of the valuable experience gained from Team USA at the World University Games. She should become a household name in Women's College Basketball circles and challenge Elena Della Donne of Delaware for player of the year in the CAA. Finally, Hurt should be able to lock down a spot in first round of the 2012 WNBA Draft with a strong senior campaign.