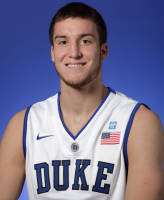 Miles Plumlee, Senior, Power Forward, Duke
Overview:
Miles Plumlee is certainly, by any outside estimation, a very good older brother. The reason we know this to be true is that his two younger brothers are both better than him at basketball. This can, at least partially, be attributed to them having to play with him and his friends when they were younger. The eldest teaches and the younger siblings get better by playing against better competition and always trying to outdo each other.
That's enough of the psychoanalysis though. In basketball terms, Miles Plumlee is a big body and nothing more. In three years at Duke he never came close to playing starter's minutes in a routinely outside-oriented offense. Some may deem this a detriment to Plumlee's evolution, playing on such a team. However, he rarely had much competition for the "big guy" minutes and simply could not earn them.
Final Projection:
Miles Plumlee will almost certainly not be drafted in 2012. If he makes an NBA roster through free agency, he should consider his career a success. Something has to be unearthed in his game between now and the next NBA season for that to be the case though.