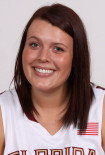 Cierra Bravard, Senior, Forward, Florida State
Overview:
Cierra Bravard instantly made an impact on the Florida State women's basketball program. In 2008-09 as a freshman, Bravard made the All-ACC Freshman Team, started 15 of 34 games and was fourth in scoring at 9.7 points, and third in rebounding at 4.7 per game. In 2009-10 she definitely increased her defensive presence, even though she still was not a full-time starter, finishing second on the team in blocked shots with 20 and third in rebounding at 4.5 per game.
In 2010-11, Florida State lost in the second round of the NCAA Tournament. However, Bravard was absolutely dominating down low. She led the team in scoring (15.0), rebounds (7.8), and blocked shots with 27 on the season and also has an opportunity to try out for the World University Games for Team USA this upcoming summer. She was also named Honorable Mention by the WBCA.
Final Projection:
As the lone returning senior for the Seminoles, Bravard should be relied upon a great deal down in the post as a go-to presence once again. The quality competition on a nightly basis in the ACC should give her plenty of opportunities to take her game to even stronger heights and position her nicely within the top 20 of the 2012 WNBA Draft. .