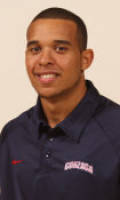 Elias Harris, Senior, Small Fordward, Gonzaga

Overview:
Elias Harris wasted little time making a huge impact for the Gonzaga basketball team. The 6-7 small forward scored 503 points, the most ever by a Bulldog freshman. On top of his impressive scoring output, Harris showed during the 2009-2010 season that he could do a little bit of everything. He averaged 7.1 rebounds, 1.1 assists and also used his lanky frame to nab some steals and block some shots.
Harris had a bit of a sophomore slump during the 2010-2011 campaign. Yet, averaging 12.4 points and 6.0 rebounds is hardly a slump for most players. Where Harris struggled was with his outside shooting. As a freshman he was a threat to hit the occasional three-pointer. That was not the case in 2010-2011. One reason for the slump is the fact that the opposition game planned to stop Harris after his success during the previous campaign and he was not ready to create all of those opportunities on his own.
Final Projection:
Harris is a unique talent and as an upperclassman he should be ready to take over some games and find his outside shot once again. Gonzaga is too talented for the opposition to spend too much time keying in on Harris and that should help Harris put up better numbers. But whatever the numbers may say, Harris is a tall and lanky small forward who has a decent enough outside shot and can hit the glass hard or find his teammates. He is the perfect fit for an NBA small forward who can score in a variety of ways and help out the team in just about every facet of the game.
See all NBA Draft Profiles and Rankings