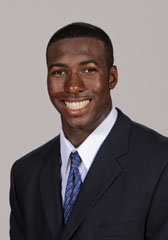 Patric Young, Junior, Power Forward, Florida
Overview:
What can be said about Patric Young that hasn't already been said about Daniel Orton? Something about backup centers who don't produce or play big minutes in the SEC has NBA scouts going wild.
Last season, Young couldn't consistently crack the Gators rotation. He averaged fewer than 18 minutes a game, never was an offensive target and, although he never fouled out of a game, never avoided foul trouble. To make matters worse, his "prowess" stems from his big body being able to rebound and block shots yet he never had a double digit rebounding game nor did he ever block more than two shots in any game.
Final Projection:
At some point, talent and upside has to be proven on the court and Young simply didn't do anything for long enough his freshman season to say he's deserving of a first round grade in the 2012 draft. A lot will rest on Billy Donovan's rotation and how many minutes he gives Young, assuming Young can stay out of foul trouble long enough to warrant it.
See all NBA Draft Profiles and Rankings