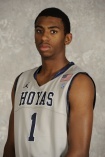 Hollis Thompson, Junior, Shooting Guard, Georgetown
Overview:
Hollis Thompson is pretty much what you expect when you look at him…a solid 6-7, 205 pound shooting guard in an athletic frame that can score with ease from pure athleticism. With offers from other power-house schools such as USC, Arizona, UCLA and Duke, Thompson felt Georgetown gave him the best competition and the best chance to succeed at the college level.
Fresh out of high school Thompson contributed right away making an appearance in all of the teams 34 games averaging just under 20 minutes a game to go with 4.8 ppg. A year later he increased his minutes and nearly doubled his point production to 8.6 a game. Strides have also been made on his rebounding ability which is a good sign for NBA teams that will look for him to be a factor on the boards.
Final Projection:
Going back to Georgetown for his junior season will benefit him in the long run giving him more time to develop his game further. He may be asked to play the three position in the NBA due to his height. This would require him to add some more muscle and bulk up so he can compete on the glass. He also has some ways to go defensively, otherwise he will be on the end of the bench. Thompson is a solid, late second round pick as long as the team that drafts him doesn't mind working with him before he can make a significant impact.
See all NBA Draft Profiles and Rankings