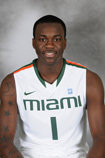 Durand Scott, Junior, Point Guard, Miami (FL)
Overview:
Durand Scott will be returning for his junior season at the University of Miami, as he will look to improve on an already impressive career as a Hurricane. As a freshman, Scott was named to the ACC All-Rookie Team, as well as the ACC All Tournament Team, living up to the hype he garnered as a high school senior. In his sophomore season he was second on the Canes in scoring with 13.6 points per contest, also ranking him 12th in the ACC. A thief on the court, Scott led the team with 1.2 steals a night, using his quick hands and natural instincts.
Scott is an athletic guard, who does not shy away from using his strength to get to the rim. However, he also utilizes his quickness very well by getting around defenders with a good first step. He is able to score effectively by either creating his own shot or getting points in transition. Scoring might be his strong suit, but Scott is quite the ball handler and a talented passer. Defensively he will only get better, with his size and length allowing him to guard multiple positions at the college level. Although his shooting went up percentage wise, Scott will need to continue to improve on his mechanics.
Final Projection:
Durand Scott has been a productive point guard so far as a college player. He has already gained much needed experience, with more to come as he is returning for his junior year. Continuing to improve on his overall offensive game, specifically his playmaking ability will go a long way towards determining his draft status come 2012. He might not be a first rounder, but with a premium on point guards these days in the NBA, expect Scott to be a mid to late second round pick.
See all NBA Draft Profiles and Rankings