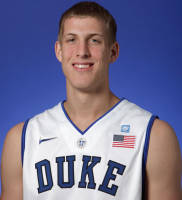 Mason Plumlee, Senior, Power Forward, Duke
Overview:
Playing in Duke's offense, there is not much opportunity to showcase a back-to-the-basket post-up game. To be frank, there is not much use of anyone who doesn't shoot from three or drive to the cup. For that reason, much of Mason Plumlee's usefulness was on the offensive glass and near the rim. He took advantage by shooting a shade under 60 percent from the floor last season.
In actuality, his real worth was defensively, rebounding and protecting the rim. In playing 25 minutes a game, Plumlee took down over 8 rebounds and blocked 1.7 shots per contest. Even though the offense never went through him, Mason Plumlee was able to prove his value and showed strengths that translate very well to the NBA game.
Final Projection:
A more pronounced role on the 2011-2012 Duke team can do wonders for Plumlee's draft hopes. If he continues to progress into a big-time finisher at the rim and someone who opponents have to plan around offensively because of his shot blocking and shot altering, there is no doubt an NBA squad will use a first round pick on Mason in the 2012 draft. A stellar season, conceivably, could push Plumlee to the edge of the lottery.
See all NBA Draft Profiles and Rankings